You may not be involved in a KHSAA sport, but you can still be an athlete and a champion. One of Trinity students' favorite extracurricular areas is the intramural program. Organizing such a program for 1,200 students is not an easy job.
Retired at the end of May after 38 years as a biology and health/PE teacher and coach, Mr. Joe Bryant coordinated the intramural program at Trinity since the mid 1990s.
Bryant, a 1975 Trinity alum, has been involved with sports his entire life, playing football, basketball and baseball in his youth.  Not only did he play sports, he coached as well.   
"I coached defensive backs in football at Trinity for 11 years," Bryant said.
When Bryant saw the opening for running the intramural program, he took it. The job requires time, planning and especially organization. The intramural sports run through most of the year with the help of a number of moderators — basketball (Mr. Mike Chancellor), bowling (Mrs. Betsy Darby), volleyball (Mrs. Mary Mason), Ping Pong (Mr. Joseph Chittissery Mathai) and Frisbee (Mr. Conor Carroll).
Chancellor, for example, does all of the scheduling with the Athletic Department for gym times for 48 basketball teams in the winter. Chancellor and Bryant, along with others, ref the games.
"I turn into a gym rat for three months during the winter," said Bryant, who works between 80-120 basketball games every winter. "Every game is different and has its own personality. Close games and last-second ones are the best," Bryant said.
Before Bryant had a knee replacement, he would officiate the games, but since then he runs the clock and keeps score.
Bryant has always found enjoyment coordinating the intramural program.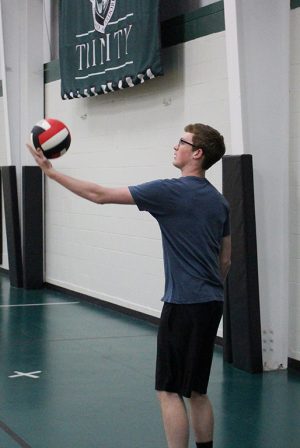 "I get to see the students in an atmosphere with competition, and it's fun to watch," Bryant said.
He has also witnessed many great athletes play intramural basketball.
"It'd be unfair to single one player out because there were so many great players. I could easily pick an all-star team, but it'd be tough to pick out the Michael Jordan," Bryant said.
Over the years intramural basketball has changed. It used to be shirts vs. skins, less expensive, and shorter games. Since then, it has been modified to team t-shirts, which makes playing more expensive, and longer games.
Even certain sports have come and gone, among them intramural soccer.  There used to also be intramural softball at a park off Westport Road for only juniors and seniors, but the guys lost interest over time.  Touch football has been proposed to be included but has been declined. "Touch football isn't allowed because it could be dangerous and cause injuries," Bryant said.
When the intramural basketball season ends in March, intramural volleyball starts up. Computer programming teacher Mason has been in charge of intramural volleyball play for about 15 years.
Mason was heavily involved in sports from high school to college, playing for Assumption and the University of Louisville.
"I was a jock. I played softball, volleyball, basketball, high jump, and field hockey. I was even a cheerleader," Mason said.
Mason's love for volleyball led her to become the first coach for Trinity volleyball at a one-day tournament. Leading up to this one-day tournament, the team practiced a month. Mason did not coach the team long because she was pregnant with her son at the time.
After her pregnancy, Mason still wanted to be involved with volleyball, so she decided to oversee intramural volleyball. Despite running volleyball for many years, Mason said, "It is a lot of work."
She said she enjoys the friendly competition — "It's fun seeing the kids have some fun and trash talking."
Trinity junior Dean Behrendt plays intramurals for the fun of playing the game and meeting people.  Behrendt said, "It's a great workout playing. I also get to meet people that I don't have classes with and wouldn't normally talk with or see."
The intramural program brings students together to be active in sports with a little bit of competition.
The moderators who run the various sports enjoy seeing the students in a different environment, and many of the students are appreciative of the hours spent preparing for intramural contests.
Bryant said, "I appreciate the students' thanks after the games."