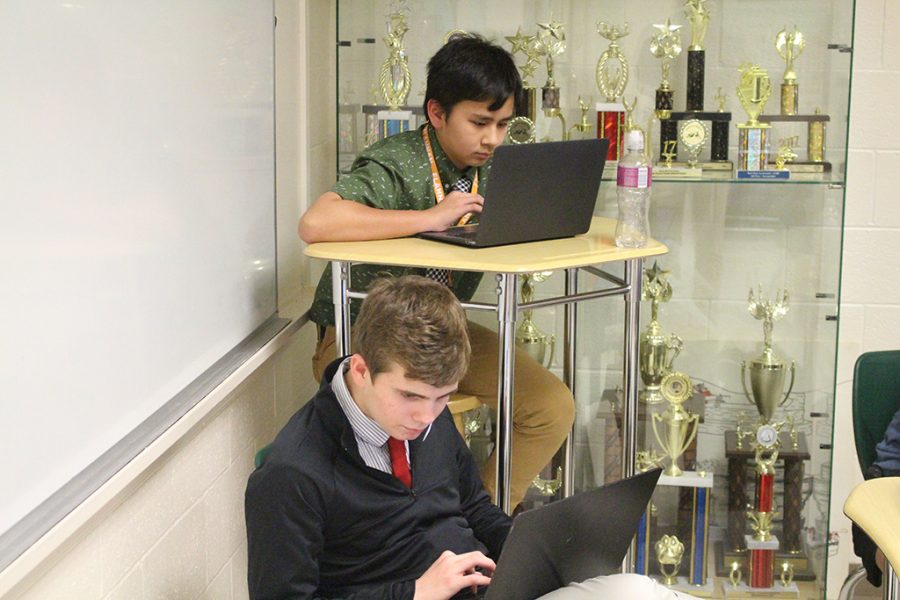 photo by William Blevins
Early Saturday mornings.  Late afternoon practices.  Tournament after tournament.  Why?  Because the Trinity speech and debate Rocks know what it takes to excel.
Under the leadership of head coach Ms. Amy Zuccaro, the Rocks had a successful first semester and are now in high gear toward state and national contests.
Some highlights from this season thus far:
Zuccaro was asked by the National Speech and Debate Association to present at SPEAK Sept. 14.
September Wyatt Debate League Tournament– Walker Evans placed second and Preston Romanov place third.
October Wyatt Debate — Evan placed second; Romanov fourth.
Nov. 2 — Ruth Blair Invitational — Gus Boyer placed third in Broadcasting; in Congress, Evans placed second, Porter Hunt third and Romanov fifth; a sixth for the team in sweepstakes.
 Nov. 9 — Paul Lawrence Dunbar's tournament — Evans had an amazing  tournament with  championships in Congress and Impromptu; Boyer placed fourth in Prose; team took fourth in overall debate sweeps.
November Wyatt Debate — Evans was named Tournament Champion in Congressional Debate; Hunt was named sixth best in Varsity Lincoln-Douglas Debate; Romanov placed fourth in Congressional Debate; freshman team of Evan Belcher and Joseph Eng advanced through to semi-finals in Novice Public Forum, fourth overall; Belcher and Eng earned membership in the National Speech and Debate Association National Honor Society.
Tournament of Firsts — Evans placed second in Congressional Debate; Boyer placed seventh in Dramatic Interpretation and third  in Broadcasting.
Break in the New Year Invitational — The team resoundingly won Congressional Debate with Evans taking first; Romanov placed third; and sophomore Matthew Chou fifth; Boyer was named tournament champion in Broadcasting; the team also took home sixth place in overall team sweepstakes.