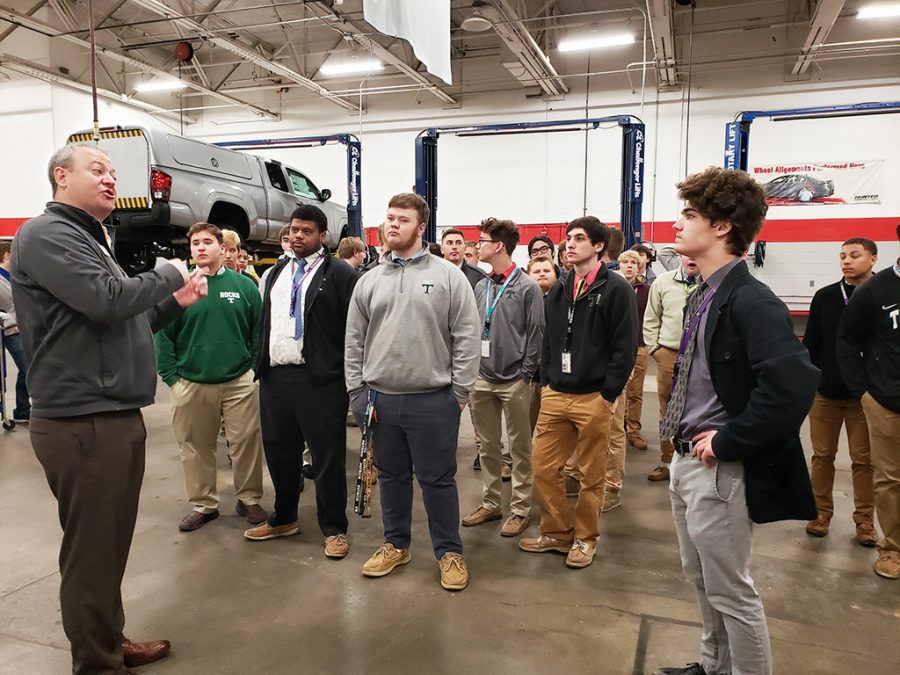 photos by Mrs. Betsy Darby
Juniors taught by Trinity teachers Mrs. Betsy Darby and Mr. Mitch Greenwell, in conjunction with the College Counseling Department, toured the technical campus at Jefferson Community Technical College and attended the Spalding University Showcase on Mar. 6.
Darby said the event was designed to help assure that "our students are college and career ready following graduation."  Darby and Greenwell planned the field trip as an extension of Trinity's job shadowing program.
Students toured JCTC's technical campus at 8th and Chesnut. Admissions counselor Telly Sellars took the juniors into technical labs and classes that focus on robotics, aviation repair, welding, plumbing, automotive repair, carpentry, and HVAC.
Sellars explained how students at the school attend classes, but also work apprenticeships and internships while completing their technical training.
Information was provided about the ways in which robotic technology is affecting job availability. 
After sitting down with admissions counselors, LaQuann Williams said, "After seeing the JCTC program, I see how I can incorporate technical job skills and my interest in accounting into an entrepreneurial opportunity. I would love to own my own business."
Darby's and Greenwell's students also had the opportunity to be part of the inaugural Spalding University Showcase. Students heard from admissions counselors about the benefits of Spalding's six-week block schedule, campus majors, low student-to-faculty ratio and athletic programs.
The group was treated to lunch on campus and also participated in a campus tour. Daylen Lile enjoyed seeing the school's weight room and was eager to see the bullpen where the baseball team practiced.
Students also had the opportunity to participate in an all-campus school fair. They were told about learning support services,  including the school's writing lab, the school's health service center and study abroad programs. They talked with teachers in various majors and to athletic coaches.
Roman White told Darby, "After speaking to the representatives at the nursing table, I think I decided that I want my major to be in medicine, working in surgery."
Darby and White talked about how his mother, who works as a nurse, will be an excellent resource and mentor as he continues on his career path.