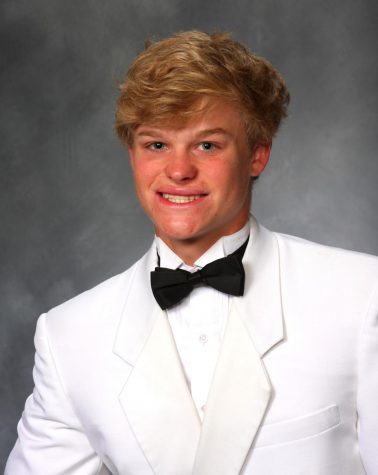 Another in a continuing series of Q & A interviews with Trinity spring sports student-athletes.
Trent Youngblood, a 2020 Trinity graduate, was a member of the talented baseball Rocks.  He signed a national letter of intent to attend Transylvania University. Trent spoke of his time playing baseball at Trinity.
Q: Have you practiced or worked out during the past two months?
A: Yes, I practiced mostly at my house. I'll hit Wiffle balls off a tee in my backyard and throw a ball against a wall. I have a squat rack so I can work out at home, too, which is nice.
Q: What was your favorite part about playing baseball at Trinity?
A: Just being together as a team and being able to get better and compete while having fun.
Q: What was the most memorable moment playing baseball at Trinity?
A: Beating St. X in the regional championship was so fun because they were nationally ranked, and there was so much hype to it.
Q: What has been your most memorable time playing baseball overall?
A: Going to Cooperstown when I was 12 was an awesome experience because we played teams from all over the country and finished top eight out of 104 teams. 
Q: Was it hard to juggle baseball and school? What worked best? What didn't work?
A: Yes, there were many times where it got stressful, but I'm glad that's how it was because it taught me the importance of not doing assignments at the last minute. I figured out procrastinating is a really bad habit, so I started utilizing advising and other opportunities.
Q: Beyond baseball skills, what has playing the sport taught you over the years?
A: It's taught me so many things, but primarily the importance of work ethic and the value of team chemistry. When you combine those two factors, your team is set to be very successful.
Q: What does it take to be a good baseball player?
A: Hand-eye coordination, quick hips, awareness and acceleration.
Q: What are you going to miss the most about baseball at Trinity?
A: Definitely the people and our unified goal. We all worked so hard with the mindset of winning a state championship. There were so many great memories I shared with the players and coaches that have been the best times of my life.