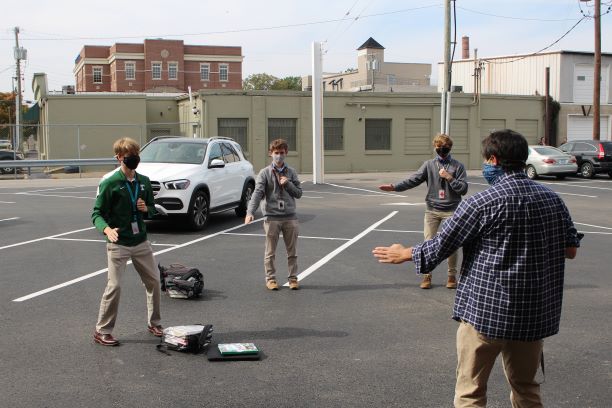 photo by Editor in Chief Owen Neumayer
Trinity's resident kung fu sifu (teacher), Mr. John Baldwin, has for 17 years welcomed all to the Kung Fu Club.
Usually meeting on Fridays for about 30 minutes, the club acts as a place for these students to relax and become one with themselves before their weekends begin, according to club member junior Harrison Hunt.
One of the best things about having a high school Kung Fu Club is that it requires no equipment.  The meetings held earlier in the year took place in the senior parking lot and adhered to COVID protocols. Baldwin seemed very comfortable in this teaching environment, saying the best part of being moderator of the club is "watching the people I teach grow."
When he started the Kung Fu Club in 2005, Baldwin already had 10 years of experience under his belt. He also taught kung fu at the School for the Blind for 14 years, along with teaching independent sessions.
When asked how far his students will go with kung fu, Baldwin said, "You know it's like anything. If you want to take it further, you have to put your time in."
Due to COVID, attendance at the club meetings has varied.  COVID protocols have also impacted the way the kung fu is taught. Practicing it while remaining a safe distance from one another is a difficult task.
Junior Matthew Fisher is hopeful meetings will ramp up after COVID restrictions. He said, "When COVID ends, we are definitely going to start kicking up the practice intensity."
Fisher sees the meetings as a good alternative to handle the stress of school amid the pandemic. Hunt agreed, saying, "It really helps to center you and get you ready for the weekend."
What the students are taught carries into other times during the week. Hunt said, "Even when I'm studying sometimes, I will get stressed out, and I'll just run through a couple of motions."
When asked if he believes he will utilize what he learns from the club after his time at Trinity, Fisher said, "I would like to say I would do the stretches some more after I graduate."