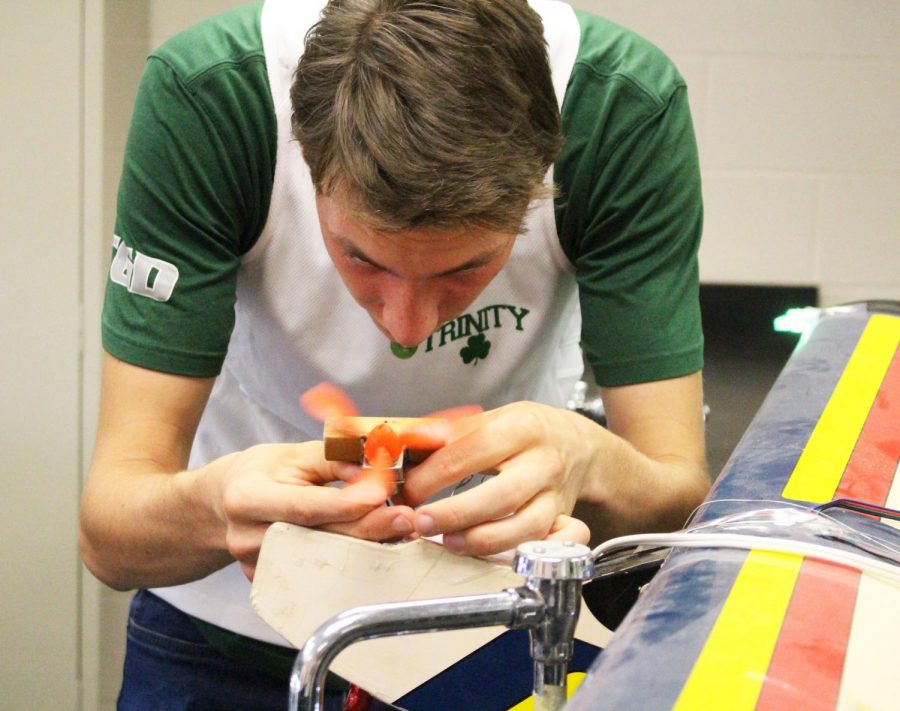 photo by Andrew Hamill '20
It was about 15 minutes past three in the afternoon. I and two others were working on a broken television set.
As members of Mr. CM's Electronics Club, we were disassembling a TV to fix a lighting issue before putting it back together.
People aren't supposed to find pleasure in broken electronics, but we find a way to see the good in it. It is not difficult. It is not a task. It is a hobby for its members. Phones, toasters, and other small-to-medium-sized portable electronics just mean more projects for us.
The lab is on the third floor at the corner of Floersh and Duerr halls, where we hear footsteps every 30 seconds or so until about 3:30.
The room has a black floor covered with almost lemon-like colored dots. The tables are of green wood with a black top, sinks and the other usual lab equipment.
As we sat in the nearly quiet room — only the A/C running — we saw voltage testers, wires and circuit boards.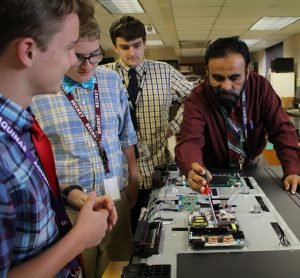 When the sun went behind a cloud, I turned the lights on, and we took a closer look at the TV's insides. I began focusing on the parts of the set that were disconnected, seeing if that would come to be useful.
After about three minutes, I peered over to what the other guys were working on and recognized a very familiar smell — a smell too common with any electronics after certain components are exposed.
The strong, bitter smell did not spread to other parts of the room, which had an odor like salt, typically found in a physics lab.
The bitter smell was strong enough to spark a needed conversation.  The odor intensified when we opened a new layer of the set, showing the primary light sources.
Mr. CM tested the parts without plugging in the TV by attaching the end of a wire to a receptor on each of the lights. We found that it was one of the strips of lights that was causing the smell.
After the smell diminished, I finally took a close look at the TV, where I saw the green circuit boards.
Working with electronics brings out a sense of excitement and a nonsensical feeling of danger. There hasn't been an injury to date, but many become anxious when working with circuits because of the inner wires.
The "danger" oddly contributes to the interest we feel. After a bit, we began putting the TV back together. It was nice to wrap up another project while learning about the systems in a certain device.
As we left the meeting, the wait for what may come the following week began.