A Fareway to Spend a Lifetime Linked to Golf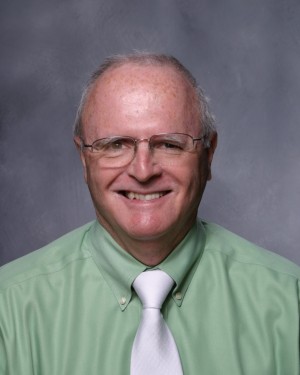 As a coach for the Rocks golf team in the 1970s and '80s, Trinity teacher Mr. John Kahl has lived his belief that "golf is not a game; it is a lifestyle."
Kahl, a 1969 Trinity graduate, grew up loving golf and played for the Shamrocks.  During Kahl's time coaching Trinity golfers, the teams won state championships in 1978, '79 and '88.  Though he has not coached for a good while, Kahl's involvement with golf continues to this day.
Most recently, Kahl saw Trinity's team compete in the state championship.   Kahl volunteered during the summer at the Professional Golf Association Championship, played at Valhalla Golf Course, which also hosted the 1996 and 2000 PGA Championships, along with the Senior PGA Championship in 2004 and the Ryder Cup in 2008.  
"
Golf is not a game; it is a lifestyle.
— Trinity teacher Mr. John Kahl
Kahl got a call about the 2014 PGA gig from a friend who is a chairman on the PGA committee.  He agreed to volunteer "mainly to see the pro golfers in action up close."
Kahl's job at the tournament was to oversee the teenagers who acted as standard bearers, holding up the score card on the tee box of each hole. He said the job was not difficult but was "sometimes frustrating if a kid didn't show up for an event."
Kahl, who also worked the '04 and '08 tournaments at Valhalla, was able to go inside the ropes during play. He was mainly stationed at the Valhalla headquarters.  This came in handy when the big rainstorm hit.
The PGA Championship included an extra event that Kahl found exciting. He attended the ceremony and reception as former President Bill Clinton received the Distinguished Service Award from the PGA. This is an award given to a person who is a great contributor to the PGA.
Kahl said, "Clinton has made the game of golf a better atmosphere. It doesn't matter what your political standpoint is; this man has contributed so much to the community, and to be so close to him is just an honor by itself."
Golf remains part of Kahl's lifestyle. After all the years involved with the sport, he described the PGA tournament with one word: "Electric."