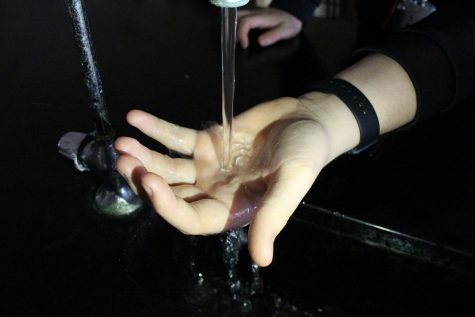 Todd Crenshaw, Staff Reporter
March 2, 2018 • 1 Comment
"I think the debate is asinine. No one should be talking about it. People who are have too much time on their hands." This was Trinity science teacher Mr. Michael Budniak's r...
Aidan Kolb, Staff Reporter
February 3, 2018 • No Comments
After school, students sit in desks scribbling down the same sentence in all capital letters until the hour is up. "Justice Under God," or JUG, is one type of discipline...
January 30, 2018
Powerful Rap Can Teach Us Lessons
January 11, 2018
Multi-Billion Dollar Gun Fight Hurting All
July 7, 2017
Why Does the NCAA Refuse to Share with the Real Money Makers?
March 24, 2017

Loading ...
Early-Access PUBG Full of Adventure
December 19, 2017
What do skydiving, driving, fighting, scavenging and...
Iconic Zombie Show 'The Walking Dead' Always Entertains
December 19, 2017
Zombies, guts, guns, fighting, chaos, revenge, mystery...
'Baby Driver' Takes Audiences on a Thrill Ride
December 18, 2017
The screeching tires, the loud banging sound of guns,...
'College GameDay' Makes Football Saturdays Fun
December 18, 2017
"Good morning. We are live for 'College GameDay.'" These...