No. 23! — Rocks Again State Champs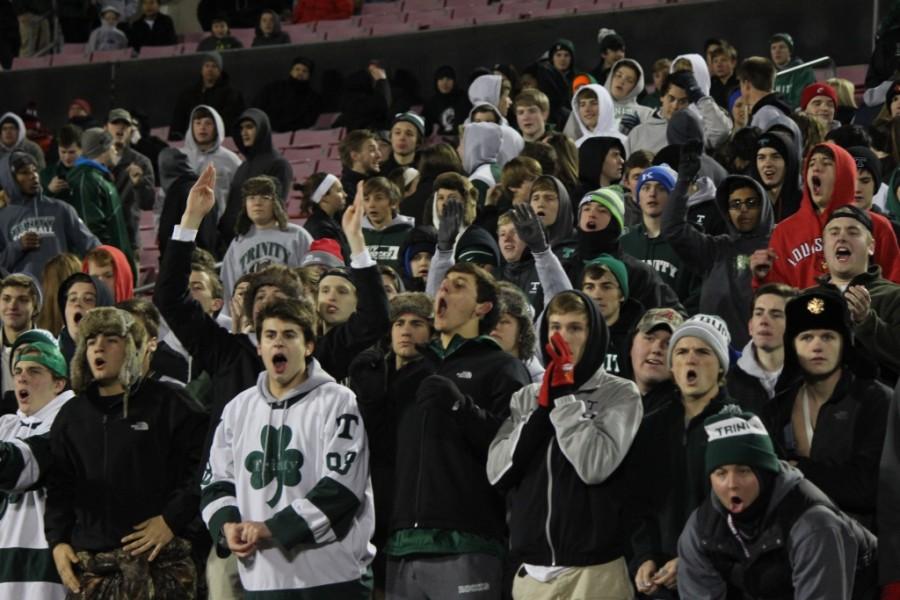 ECHO Staff
December 8, 2014
According to Trinity assistant coach Gary Owens, "this one was special. Despite another rough start, your varsity football Rocks captured the school's 23rd state football championship in grand fashion, dominating Dixie Heights 47-14.
"After spotting the Colonels to a 6-0 lead less than two minutes into the game, the defense overwhelmed Dixie, limiting them to zero points and less than 200 yards through three quarters.  Meanwhile, the offense was as efficient as they've been all season, scoring on all five possessions of the first half and the first two of the second half.
"The score was 47-6 and a running clock ensued before Dixie scored a late touchdown.  The win marked the 11th title in the last 15 years and helped tie Highlands again for the most titles in state history.  The win also set a school record as this year's team became the first in school history to lose five games and win a state title.
"(Head) Coach Bob Beatty tied Dale Mueller for the most state championships in state history (11) as well.  All in all, It was a great weekend and a great time was had by those involved.  Thanks to all those super fans who traveled to Western (Kentucky University) this weekend and who stuck with us through all the adversity this year.  Your support was greatly appreciated and needed.
"Congrats to the senior class, who led us to another state championship, the school's first team title in any sport since 2012.  Your mark has been made.  Let's make sure we finish the job in the classroom and in the community these last two weeks, as well as the rest of the school year,  to show that we are men of character both on and off the field.  Great job, Trinity!  Go Rocks!"
The Rocks will be honored at an assembly on Dec. 11 at 8 a.m. in Steinhauser Gym.