ECHO Adviser Receives UK's Enoch Grehan Prize
ECHO Staff
January 29, 2015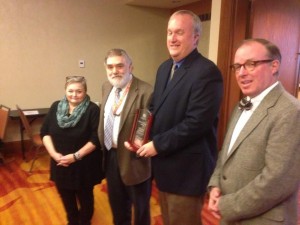 Trinity teacher Mr. Tony Lococo H'03 received the Enoch Grehan Prize for outstanding high school journalism in celebration of the 100th anniversary of the University of Kentucky's journalism school, founded by Grehan in 1914.
Former Kentucky Kernel editors in chief Mr. Gregory A. Hall '89 and Mr. Duane Bonifer '86, two of Lococo's former students, took part in the award presentation at the Kentucky High School Journalism Association convention, held Jan. 22 in Louisville.
Lococo has served as adviser for the Trinity student newspaper, the ECHO, for the past 30 years.  He has also overseen the production of  25 of the school's yearbooks.
Lococo was nominated for the award by Trinity alumnus and Hall of Fame member Mr. Jack Guthrie '58. The story was covered by KHSJA students as part of an onsite writing contest.