Nothing Offensive About This O-Line!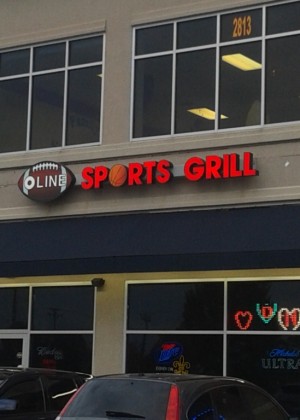 "Sit where you'd like," I was told as I walked into O-Line Sports Grill. They weren't overly busy, and I wondered if this was a good option for dinner; then I realized it was a Tuesday, about 7:15 p.m. — no big football games tonight.
I looked around to see where I could get the best view of the New York Mets and Chicago Cubs baseball game that was coming on in a bit. This wasn't a difficult choice due to the ample number of TVs that lined each wall of the average-sized, neatly arranged dining room.
In addition to the wall TVs, more were located on a few poles in the middle of the dining room. They could be swiveled to the liking of a customer. After taking in the stunning number of sports channels on display, I sat in a booth on the wall of the tinted glass entrance and exit.  
"
I would recommend it as a cool place for an older son and father to watch a game together and enjoy some good eats!"
A few moments later, I was greeted by a waitress by the name of Chance. The sound of her voice told me she enjoyed what she did. She made me feel comfortable even though I was in an unfamiliar place.
The waitress handed me a menu and asked what I would like to drink. I replied, "Pepsi, please." I looked over the creative and detailed menu, which included variety to satisfy all different kinds of taste buds.
When the waitress returned, I ordered the Cheese Fries Pre-Game Starter (an appetizer of fries "topped with a generous portion of cheese and bacon…..$7.29″) and the Nacho Burger (a half-pound Angus beef patty "topped with jalapeno peppers, salsa and guacamole, served on a pretzel bun….$9.19"), which was just one of what some would call wacky — but I would call creative — burger choices.
After a 20-minute wait, which seemed slightly long, the food arrived. I was expecting to receive the appetizer prior to my burger so I could enjoy it while I was waiting on my meal. But it was delivered at the same time as my burger.
I dug into the appetizer first. Loaded with cheese and bacon bits, it was just as described and as fresh as possible. I then started to enjoy my Nacho Burger, cooked just right.
I was very pleased with the meal as a whole and ate as much of the generous portions as I could.
I would really recommend giving O-Line Sports Grill a try. The prices may seem a little high at first, but that is offset by the generous portions. I managed to get my entire meal for around $19.  O-Line is located at Hurstbourne Lane and Westport Road.
Because this is a sports grill and bar, I wouldn't recommend bringing small children in during popular football games or other sporting events. But I would recommend it as a cool place for an older son and father to watch a game together and enjoy some good eats!