'Call Out the Team Now' — Police Perspective on Mall 'Major Civil Disturbance'
People went to the Mall St. Matthews expecting a normal evening of shopping the day after Christmas. This was hardly the case. At the start of the disturbance a couple of hours before the mall closed there were only four officers stationed, working a normal overtime holiday shift.
According to reports, about 2,000 juveniles began behavior that led to an early closing of the mall.
St. Matthews Police Officer Tony Cobaugh, the Special Response Team Commander, said he received a text from Lieutenant Christopher, saying,"Tony, I am one more fight away from calling you guys out."
Then he received a text saying, "Call out the team now."
Cobaugh contacted Major Payne of the Special Operations Group. Cobaugh, a 1973 Trinity graduate, said, "You want to surround yourself with well-trained and disciplined police officers."
The mall management asked to close the mall immediately, but Cobaugh asked them to hold off until more officers arrived. The mall management started asking people to leave before the officers had everyone on site.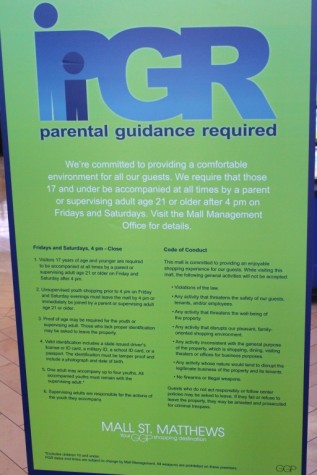 Cobaugh said they were already moving people out of the food court when he arrived. He said, "Some were walking normally, some were jogging, and then there were some running full speed."
Then Cobaugh heard on the radio that two officers were surrounded by 100 people. The police put out a 1030 (officer in trouble). This message goes out to the entire county. Cobaugh said that a 1030 is the equivalent of "the cavalry coming in."
In total there were 65 police units. Even the air unit was brought in (unit 20), and they remained overhead for about an hour.
Cobaugh told everyone to go into a "sheepdog mindset" to deal with the large groups spreading outward.  Cobaugh said, "Ninety-nine percent of the time it was peaceful dispersion."
Cobaugh described the event as a "major civil disturbance. People started looting —  being run over by the mob."  He described seeing a young man and his mother getting slammed into a glass panel by the passing mob.
He also said a K9 unit was pelted. There was vandalizing of local businesses with graffiti and property destruction.
The chaos was not planned, according to Cobaugh, who said, "It is my firm belief that this was a random event." He said no officers found anything pointed to this being premeditated but "was layering up. Something was going to erupt. Guns were showing up."
He said three people approached him, two of whom said they were glad the police were there. It made them feel safe.
Cobaugh said, "I believe that the worst of it is over. Things will continue to be business as usual."    
"
Tony, I am one more fight away from calling you guys out."
— Major Payne of the Special Operations Group
Cobaugh added that in the group of juveniles there were "only 25-50 instigators" and there were a few hundred "followers."
Since the incident, Mall St. Matthews and Oxmoor Center have issued Parental Guidance Rules.  This rule states: "Visitors 17 years of age and younger are required to be accompanied at all times by a parent or supervising adult age 21 or older on Friday and Saturday after 4 p.m. Unsupervised youth shopping prior to 4 p.m. on Friday and Saturday evenings must leave the mall by 4 p.m. or be immediately joined by a parent or supervising adult age 21 or older."
Reactions to the rule varied. Trinity junior Brandon Attaway said he could see why they made the rule, but he does not agree with it. Attaway said, "Because one group committed a crime doesn't mean (it's okay) to discriminate against other people."
Trinity junior Brandon Jent said, "It was a one-time occurrence. It  could probably be fixed with security."
Trinity senior Jesse Hammond said, "I could see why they made it. Although (the rule is) annoying, it has positive consequences. There's positives and negatives to everything."
One mall employee described the rule's effect as negative but temporary. Brandon Sumner, manager at the Tilly's clothing store, said, "It significantly decreased our traffic after 4:00 p.m. The mall as a whole is less energetic. I don't foresee this lasting."
Check out this extensive interview with Officer Tony Cobaugh filmed by Hunter Mulloy: