Speech Rocks Excel at State Tournament — Romines, Rojas-Ortega Earn Top-Three Honors
From Speech and Debate Team Head Coach Amy Zuccaro: 
Paving the basketball team's way to Rupp Arena, the Speech and Debate Team traveled to Lexington this past weekend to compete at the Kentucky High School Speech League State Tournament.
Seniors Antonio Clements and Jorge Rojas-Ortega both advanced to semifinals, placing them in the top 18 of their individual speech events. Antonio placed 11th in Poetry and Jorge placed ninth in Impromptu.  Jorge advanced to finals in Extemp and placed third, which earned him an automatic bid to the Extemp Tournament of Champions at Northwestern for the second year in a row.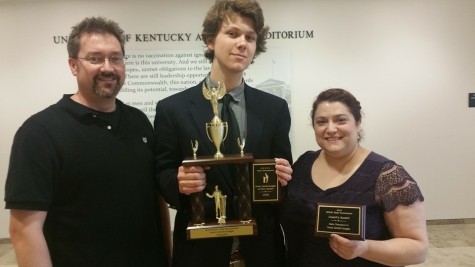 Jorge was also awarded the Blyton Book Award. Blyton Book Awards are presented annually to two outstanding KHSSL students — one from the Junior Division (middle school) and one from the Senior Division (high school). The awards are named for Dr. Gifford Blyton, a former director of the KHSSL.
For a student to be eligible for this award, he/she must have (1) competed in KHSSL for at least two years, (2) proved to be superior in more than one KHSSL event (in the Senior Division, includes both speech and debate), and (3) promoted speech, drama, and/or debate activities within his/her school, community, and state.
In the Debate portion, junior Jacob Romines went undefeated the entire tournament to earn the state championship in Novice Lincoln-Douglas Debate.
The team was also recognized for the second year in a row as a School of Excellence.