Fr. Dave Zettel — Passionate About Trinity for More Than 60 Years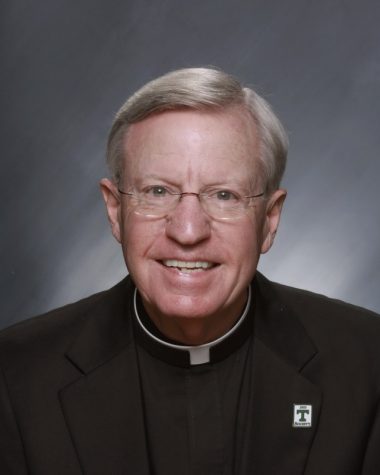 From student to teacher. From spirited fan to spiritual leader.  From Class of 1958 to Class of 2016.
Trinity High School Chaplain Fr. Dave Zettel has been part of his alma mater for more than six decades.  A journalism staff member as a student, Fr. Zettel has been connected to the school since its beginning. He was a member of the second graduating class in 1958.
After graduation, he left to study for the priesthood. Archbishop John Floersh assigned Fr. Zettel to Trinity in 1966. Fr. Zettel celebrates 50 years in the priesthood next month.
In addition to teaching, counseling, campus ministry, and serving on the School Board, Fr. Zettel co-founded the senior retreat program in 1974.  For thousands of seniors since then, retreat has been a powerful experience.   
"
Trinity wouldn't be Trinity without Fr. Zettel. He was my first introduction to Trinity. The care and spirit he lives personifies Trinity's mission. This personification told me what Trinity is about and made it a place I want to be a part of."
— Trinity college counselor and teacher Mr. Jeremy Jackson
Fr. Zettel praised the work Trinity does: "Our mission is to create men of faith and character. We do that very well, I'm convinced."
Of his colleagues, Zettel, who was inducted into the Trinity Hall of Fame in 2014, said, "We have a lot of people that are really competent, passionate, and believe in this place. We're very resourceful. We've got really good people, just keep getting really good people. We started out small, but we've always been passionate. Things just keep getting better."
Over the past six decades, according to Fr. Zettel, students have not changed that much. He said, "The spirit that was here when I was a student is still here."
Fr. Zettel said that among his fond memories was the first time Trinity won a football championship, in the fall of 1968. He described it as "amazing."
Fr. Zettel's goals continue to be the same: Working with "a lot of great people to help young people grow in their faith and character. I hope whatever I get done can be meaningful — to help with the Catholic mission."
Among the many colleagues Fr. Zettel has impacted is teacher Mrs. Sharon Bohannon, who currently works as a college counselor. She remembers Fr. Zettel's mentoring when she became a counselor.
Bohannon, who has been at Trinity for 40 years, praised the impact Fr. Zettel has had on the school.  She said, "He was the only college counselor for many years. He was the only German teacher for many years. He's probably been on every board Trinity has."
Bohannon also cited Fr. Zettel's impact beyond the classroom. She mentioned the Sunday Masses he celebrated, drawing people from Trinity and other teens in the community. She said, "People came to hear him speak."
Fr. Zettel's influence does not stop at graduation. Bohannon said, "He has kept in touch with graduates more than any person I've known. He's done countless weddings for graduates. He's impacted Trinity as a priest, teacher and a friend to many people. He's a very faith-filled person. He truly appreciates young people."
Mr. Jeremy Jackson, also a college counselor and friend of Fr. Zettel, agrees with Bohannon. Jackson, who came to the school five years ago, said, "Trinity wouldn't be Trinity without Fr. Zettel. He was my first introduction to Trinity. The care and spirit he lives personifies Trinity's mission. This personification told me what Trinity is about and made it a place I want to be a part of."
Jackson was also impacted by Fr. Zettel's mentoring. He said, "He took an interest in me, helping me get acquainted at Trinity, directing my faith and energy, and bringing to my attention God's gifts in my life."
Jackson said what defines Fr. Zettel is "his faith, his positive outlook, his patience."
Bohannon added one more quality: "He loves Trinity."