A Record-Setting Dare to Care Collection, and Who Says You Can't Get Blood from Rocks?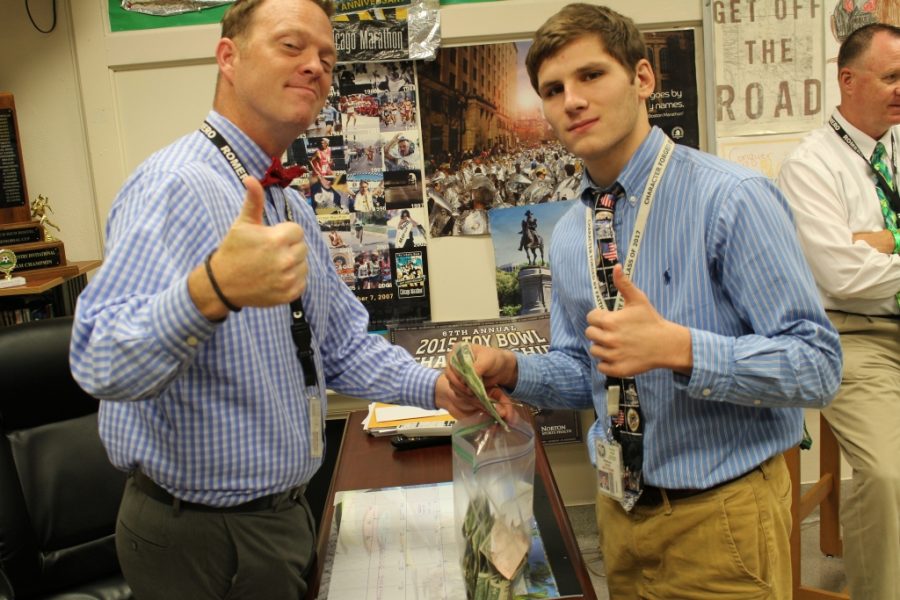 ECHO Staff
November 17, 2016
From beating hunger to giving life-saving blood, the Rocks come through.
The annual fall blood drive, coordinated by Mrs. Mary Mason, took place today in Steinhauser Gymnasium and brought in 92 usable pints, the highest total since March 2014.
Mason thanked many people for their assistance with the drive — "Dante House, especially Garrett Sheehan and John Penezic, who stayed well after 3:00 to assist the final donors and help clean up"; the maintenance crew, Ms. Laura Lichtefeld and Ms. Betty Roth, the faculty, and donor students.
The Dare to Care drive concluded today as well, collecting $14,826.59 and 153 pounds of canned goods.  In the words of Dare to Care coordinator Mr. Bernie Schum, "Every advising group reached their 100 percent goal!  This has never happened in all the years that I have been involved with this collection.  Incredible job, Trinity! You knocked out hunger. This is an unbelievable success. Thanks to everyone!"
The top 10 Dare to Care collections in advising groups were:
| | | |
| --- | --- | --- |
| 1 | Schum | 925.6% |
| 2 | Zuccaro | 730.8% |
| 3 | Bryant | 565% |
| 4 | Perkins | 477.1% |
| 5 | Gonzales | 411.9% |
| 6 | Comstock | 359.3% |
| 7 | Owens | 337% |
| 8 | Youngblood | 315% |
| 9 | Kraus | 312.7% |
| 10 | Waggoner | 207.8% |