Through Stations of the Cross, Spring Sports Athletes 'Relate in Prayer and Action to Christ'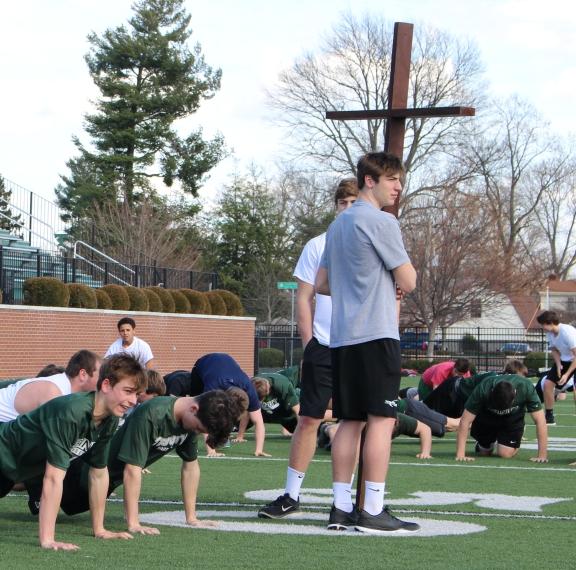 From Athletics Director Rob Saxton: 
"This past Friday afternoon, Steven Tompkins, Trinity's Director of Sports Ministry, led our Spring Sports Teams in a Stations of the Cross workout inside Trinity's Marshall Stadium.  Over 250 Trinity student-athletes were in attendance, along with their spring sports coaches.
The purpose of the workout was to help our young men grow closer to Christ by relating to the fatigue, sweat and effort that our Lord suffered for us in his Passion and Death. We hope that the workout and accompanying prayers enabled our student-athletes to relate to Jesus in an environment they are familiar with.
The Stations of the Cross are a 14-step Catholic devotion that commemorates Jesus Christ's last day on Earth as a man. The 14 devotions, or stations, focus on specific events of His last day, beginning with His condemnation. The stations are commonly used as a mini pilgrimage as the individual moves from station to station. At each station, the individual recalls and meditates on a specific event from Christ's last day. Specific prayers are recited; then the individual moves to the next station until all 14 are complete.
The Stations of the Cross are commonly found in churches as a series of 14 small icons or images. They can also appear in church yards arranged along paths. The stations are most commonly prayed during Lent on Wednesdays and Fridays, and especially on Good Friday, the day of the year upon which the events actually occurred.  A short reflection was read at each Station of the Cross, and then an exercise was performed by all of our young men to help them relate in prayer and action to Christ.
Thanks to Steven, and to our SportsLeader partners, for leading this purposeful activity for our spring sports teams."