Fly-Overs and Moving Remarks as Tree is Dedicated in Memory of Tim Hardesty '16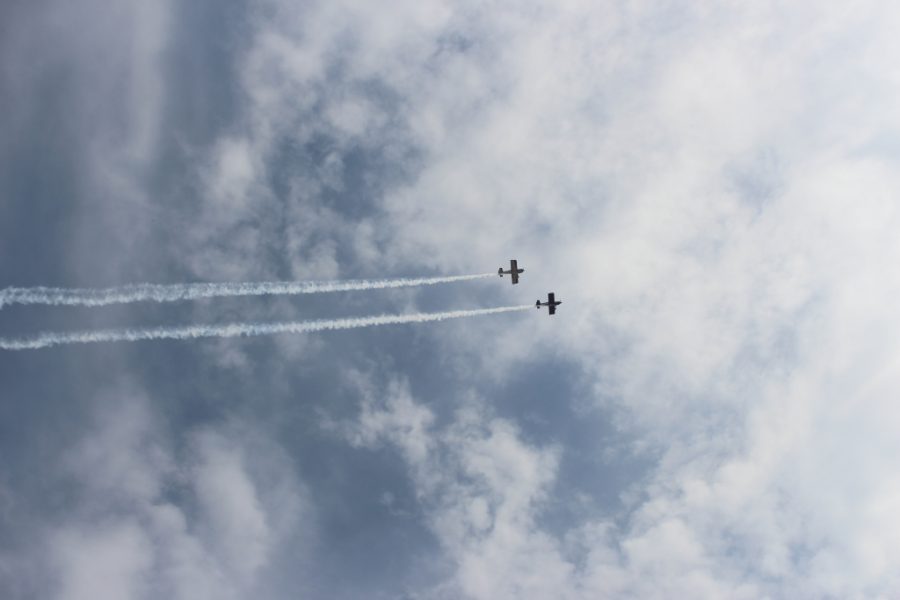 Trinity President Dr. Rob Mullen expressed appreciation to all who attended and helped in the dedication of a tree in memory of 2016 graduate Tim Hardesty, who passed away during last summer. As an underclassman, Tim founded Trinity's Flying Club, named this year after Tim.
Dr. Mullen said, "The family was very moved by the show of support" during the dedication, which included remarks by Louisville Mayor Greg Fischer, a representative of Congressman John Yarmuth and Tim's Flying Club moderator, Mr. Joseph Chittissery Mathai.
The ceremony also included fly-overs – two using smoke trails and another that flew low while dipping the wings — by some of Tim's pilot friends.
Flying Club Carries On in Tim's Name
by Ethan Vanlandingham, Staff Reporter
Kind. Enthusiastic. Loving. The ideal student.
Those words have been used to describe Tim Hardesty. Tim, a Trinity alum from the Class of 2016, had always wanted to start a flying club, and his dream became reality in his junior year after much deliberation and persistence.
Let's go back to the 2013-14 school year at Trinity, when Tim first tried to start the club. During his sophomore year, Tim approached Mr. Chittissery Mathai (Mr. CM) and asked him if he would be the moderator for a flying club. Mr. CM, who at the time was already the moderator for the cricket, Ping Pong, and ACE mentoring clubs, politely declined but encouraged Tim to try some other teachers.
Tim asked around but to no avail. But just before Tim started his junior year, he shot Mr. CM an email asking him one last time. Mr. CM said, "I thought about it for a while. I like flying, so (I said) I will do it, and then it was just a matter of making it official with the school."
From the start, the club was a success. Students started using simulators in the classroom and slowly worked their way up to going to Bowman Field and flying, and eventually went to the UPS training facility in Tim's senior year.
Tim, who graduated in May 2016 with honors, was appointed to the prestigious US Air Force Academy. The club and Trinity as a whole took a huge hit when Tim passed away at the age of 19 on July 18, 2016, due to a car accident.
The entire Trinity community was distraught by this tragedy. The Flying Club, re-named Tim's Flying Club, sees it as their duty to carry on the torch and teach others about aviation. Trinity senior Scott Kubiak said, "Tim was an inspiration to all of us, and he started the club to teach people how to fly. He passed it on to (us) to carry it on."
This year and the year before, Tim's Flying Club has gotten more members, and they have needed more flight controls for the computers. Upon hearing about Tim's passing, a member of the Air Force Academy who only knew Tim for one week donated his set of controls to the club. Since then, there have been more donations of that sort, designed to keep the club up and running for years to come in Tim's memory.