Roaming the Back Row, Passionate Roth Continues Honing His Game
The room is full of sounds. Mothers yelling at the top of their lungs, calling out to their offspring. Boys running down the hard, cold wood of the court. Coaches screaming plays at their tired players, while also making alien hand gestures that represent plays.
A snow-colored ball soars across a decent-sized net. Boom, pop, boom, pop. Back and forth it goes between two ferocious teams battling for domination.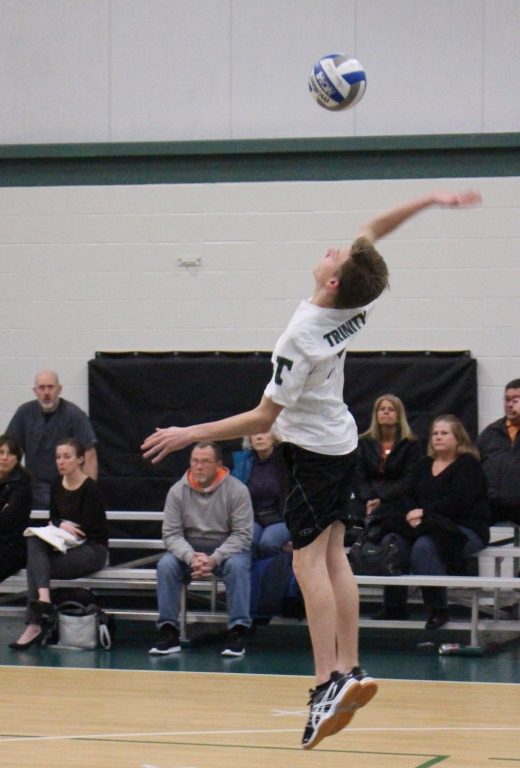 In the middle of this chaos, an average-sized teenage boy wears a bright white shirt with a small dark-green number three on his chest. This boy moves as if he is The Flash himself. His feet only touch the ground when he is not in motion.
Sam Roth, a junior on the Trinity volleyball team, is a libero, one who "roams" in the back row. Liberos are the players who create the first contact by hitting the ball to the other side of the net. Not necessarily one of the stars of the team, he is one of the most important.
Of Roth, Trinity's varsity volleyball coach Richard Weaver said, "He has all the tools to be a great player, and he's a student of the game.  Best part is how he recognizes his weaknesses.  That's the best thing any athlete, and person in general, can do."
Veteran senior Alex Thorpe said, "I haven't played with (Roth) a lot, but I know he's a good quality player. Sam is a smart kid who knows what he is doing." 
"
I have learned it as my part in the sport. I chose Trinity because I'm dyslexic, and Trinity provides the educational needs for that. But I never really chose volleyball. It chose me. My friend asked me to play it one day, and I fell in love."
— Trinity junior volleyball player Sam Roth
Roth, according to Weaver, has great potential in volleyball. He said, "I knew Sam's potential when I saw him playing three to four years ago.  I used to watch him play club ball, and I wanted him to join the Trinity program then. He was still the same student of the game back then.
"I found out he was coming here, and I knew it was just a matter of time until he saw a varsity roster spot. We have had multiple seniors at his position the last two seasons, but things opened up for him this year, and he's really taken advantage of his opportunity.
"From where he started to where he is today is remarkable.  He's put in countless hours to get where he is today.  He always had the length, quickness and athleticism to play the sport, but he's really harped on the fundamentals as of late.  Where he used to rely on his athleticism to get the job done, now he's really focusing on using the proper technique and tools to become an elite volleyball player."
Roth acknowledges areas he needs to work on. He said, "I'm not a great player. I do the job I am told to do, such as hitting, passing, sitting, whatever. I'm just a competitive player that always improves himself. There are always things I can do better. I keep myself in check by listening to the coaches."
Roth's unique skill is passing. In order for a team to score, they must pass the ball to three different players. That's where Roth comes in. He is in charge of passing the ball to the person who passes to the hitter, the one who scores.
As a developing player, Roth has not mastered all skills. "Passing is his strength, but serving is not," fellow junior player Lawrence Newton said.
Weaver said, "Sam is a very talented player. He has great platform control and quick feet.  He's the first one in the gym and the last one to leave. These are all great physical tools to have, but his biggest strength is his IQ for the game. You'll always see Sam asking questions or helping others out with schemes we run or teaching higher level areas of the game.
"He's always willing to learn, and a coach can't ask for much more from a kid when they have that mindset. The one area Sam is continuing to work on is his focus.  When things aren't going well for him in the match, he tends to lose focus and confidence.  He's still a young player, so there's plenty of time to keep working on this part of his game.  Once he understands mistakes are going to happen, his game is going to take a huge leap forward."
Roth is passionate about his performance, and when he does something wrong, it sometimes gets to him. Newton said, "Sam's very vocal on the court. He gets frustrated when he messes up, but overall he's a good player."
Newton recalled Roth losing his temper during the St. Xavier game, "which caused us to lose, and we all had to run."
As he learns to sharpen his skills and control his passion, Roth continues to enjoy the game.
He said, "I love the fast pace of the game and when you get a really good volley in. It is really fun. I also love passing. It's my specialty and it's what I do. I have learned it as my part in the sport.
"I chose Trinity because I'm dyslexic, and Trinity provides the educational needs for that. But I never really chose volleyball. It chose me. My friend asked me to play it one day, and I fell in love."