The Axiom Scaring Up Submissions with Halloween-Themed Contest
Colorful artwork, moving photography and powerful writing fill The Axiom, Trinity's literary magazine. After two decades under the guidance of Ms. Debbie Walling, the magazine has a new moderator, Ms. Karen Flipper.
The transition to a new moderator began last spring as Walling's final edition was published. Walling wrote in the magazine forward: " I have had the privilege of being the moderator of The Axiom for the past twenty years….The Axiom is a wonderful representation of the creative talents of the Trinity community. I want to thank the many amazing students who have been on the staff through the years and those who have shared their artistic and literary talents."
Under Walling's direction, the magazine added a color cover, colored photos, and artwork. This was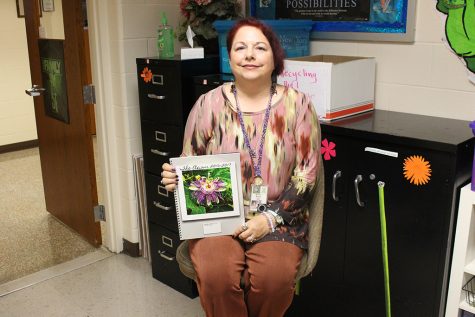 done so people can "see things as they really are." She named the literary magazine The Axiom because "it means the high point or the finest of something, exactly what the literary magazine is all about."
Flipper, who previously headed Oldham County High School's literary magazine, said she already has tons of ideas for the book, including hosting contests to generate submissions.
The winners of the contests will receive various types of prizes. The goal is to boost participation in the literary magazine and spread awareness of it throughout the school.
The theme of the Halloween contest that is underway is "Dreams and Nightmares," Flipper said.
Flipper also has plans to add a harder cover to the magazine.  "This will make the book look more official," she said.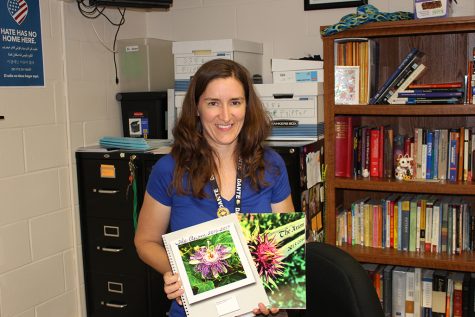 Flipper pointed out some benefits to students whose work is  featured in the book. She said being published looks good on college applications.
Flipper is looking forward to maintaining the excellence of the magazine and pushing The Axiom to new levels.
She said, "As an English teacher, I just love seeing what students write, seeing their thoughts, their creative ideas, and their visual arts, as well."
She appreciates the work students put into the publication: "One thing I really like about The Axiom is that everything is student generated. The Axiom is another way students can really put themselves out there in front of their classmates."