Navigating Recruitment Successfully a Tricky Process
Four years of hard work, patience and determination are finally paying off. An honor only 10 percent of high school athletes take part in. Their next move will determine their future academic and athletic careers. Where will they go to college?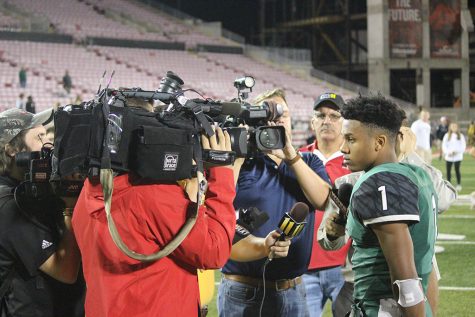 For Trinity senior Rondale Moore the decision was not all that easy.
Early in Rondale's high school football career, he went out to a few camps and got an offer by a Southeastern Conference team after running a 40-yard dash in 4.3 seconds.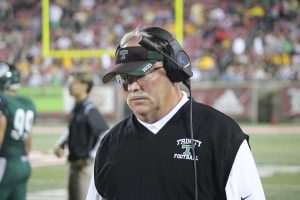 Rondale said, "Thankfully, my first offer was from an SEC team, and I used the University of Kentucky as leverage to get other offers."
His offers expanded to include other notable schools, among them Alabama and Texas.
He initially committed verbally to the University of Texas at Austin. When Rondale visited Texas, he saw how their offense worked and did not feel like his skill set worked well with the fluidity of the University of Texas offense.  
"
Listen and get with your family. I am a firm believer that there is a perfect job and school, but it is up to the player to make it perfect, so it becomes theirs."
— Trinity football head coach Bob Beatty
He later visited Purdue University and felt as if his talents worked well with Purdue's offensive game. Former Trinity and University of Louisville football star Jeff Brohm had recently become Purdue's head coach.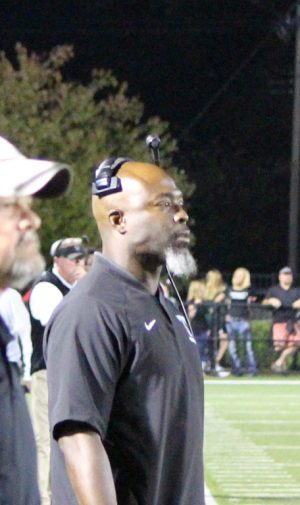 When asked why he decommitted from Texas, Rondale said, "I wanted to stay closer to home, and I felt as if my style of play fit better with Purdue."
He was happy with the people he would be surrounded by, coaching staff and players alike.
On signing day, Rondale was visibly excited to take the next step in his academic and athletic careers by putting his name on a letter of intent to attend Purdue.
How do high profile high school athletes handle the pressure of the recruiting process and making tough decisions?
Rondale gave some tips to those early in the recruiting process.
He advised, "Stay patient and continue to perfect your craft every day."
Throughout the process Rondale felt as if he learned how to distinguish those who were telling him the truth and those who were not.
The process is grueling but also a time for fun. Rondale said his favorite place to visit was Austin, Texas.
Trinity teacher and football coach Devian Logan, a 1991 Trinity alum and a former college football player himself, helped mentor Rondale through his recruitment.
Logan said, "It was not long ago I was in that same position, so I tried to give (Rondale) a different perspective."
Logan said the process was very exciting but somewhat overwhelming. He described how the approach has changed from when he was young: "Back then, there was no Internet, only word of month and VHS tape."
Logan was recruited during his senior year, the last recruiting weekend. He said it was especially memorable because it was the day Desert Storm kicked off, and his mom was particularly against him going alone to visit colleges.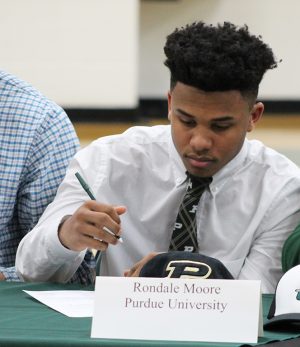 Logan said visiting month was one of the best months of his life. His favorite place to visit was Illinois.
According to Logan, some ways to get noticed by colleges are to be not only a good player but a good person. He said, "The person should be louder than the player."
An important tip, according to Logan, is to commit to a school, not a coach or coaching staff.
Trinity football head coach Bob Beatty, recently named National Coach of the Year as his team this season won the school's 25th state championship, said it was a pleasure coaching Rondale because he prefers students who are committed and coachable — and Rondale was both.
Beatty described Rondale as a student of the game, someone who takes care of everything and is humble despite being one of the most honored football players in the region.
Some ways to get noticed by colleges, according to Beatty, are to take care of school work, perform on the field, work hard and be humble.
Beatty suggests handling the recruiting process by keeping every door open, listening, and visiting every school. When asked to give some advice to someone who is stuck between two schools, he said, "Listen and get with your family. I am a firm believer that there is a perfect job and school, but it is up to the player to make it perfect, so it becomes theirs."