Legendary Teacher, Coach, Athletics Director Dennis Lampley in His Own Words
Playing Surface in Steinhauser Gym to be Named Dennis Lampley Court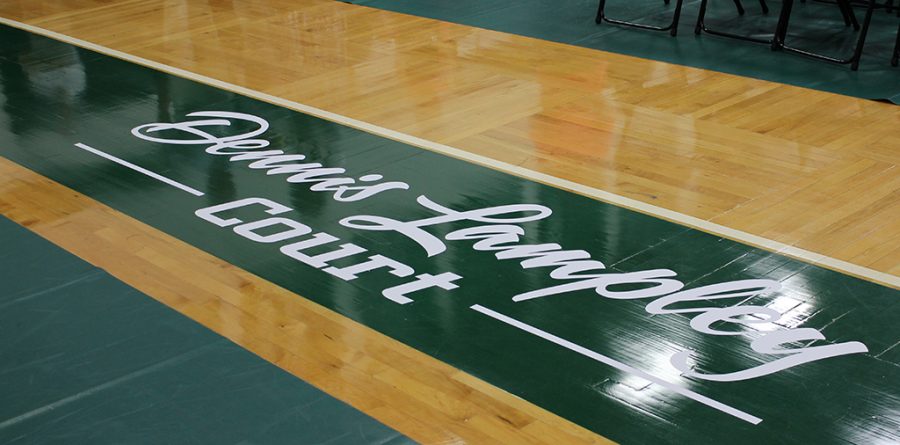 Grant Brunstetter, Staff Reporter
May 14, 2018
Trinity High School has been in existence for 65 years, and for 47 of those years Dennis Lampley has been involved with Shamrocks athletics.
Think about that. After almost five decades Coach Lampley is calling it a career.
"It's been a pretty good ride here," Lampley said in a recent interview.
A number of times Lampley reiterated, "I don't like losing."  And he rarely did.
Inducted into halls of fame for coaches, athletics directors, and Kentucky athletics, Lampley will be remembered for more than his five football state titles, a golf title, track state champs and a 50-game football winning streak. He will be remembered as a caring teacher and coach to an incredible number of young men.   
"
Trinity is the best high school in the country, and there is no doubt about that."
— Trinity teacher, coach, AD Dennis Lampley
Lampley helped the Trinity football program rise to national prominence over his tenure. He gives a ton of credit to the players he coached and to his fellow coaches for their commitment to the Trinity program.
"It's great to have had players play so well and a strong community of coaches work hard," Lampley said.
It was not always easy for Lampley as he endured some tough seasons early on and actually took some time off after a heartbreaking season in 1979 to assess what he wanted to do. During this time, he coached both the Trinity track and golf teams, which reinvigorated him, influencing his jump back into football.
Lampley said coaching is something he had always been interested in. He knew he could be a good coach, but more importantly, he knew he could help young men.  He takes tremendous pride in having been a father figure for his players throughout the years.
Lampley wanted to make sure players focused off the field as well and wanted to uphold Trinity's reputation of being a clean program.
Lampley said he appreciates letters from former players thanking him for the valuable lessons he taught them. Mrs. Kristin Meyer, Lampley's longtime coworker in the Athletics Office, said she admires Lampley because it's easy to tell that he cares and has respect for everyone he is involved with.
After his coaching career, Lampley became athletics director and looked to build on Trinity's strong sports foundation. He insisted that coaches must be good leaders; otherwise, they cannot be successful. Two of the many coaches he hired were football and basketball head coaches Bob Beatty and Mike Szabo.
Beatty has been nationally recognized and is one of the most successful coaches in state history.  Szabo led the Rocks to the school's first state basketball title in 2012.
To Lampley success in sports is important but is only part of the picture of Trinity High School. He praised the teachers and the many ways the school works to help young men.
Lampley said, "Trinity is the best high school in the country, and there is no doubt about that."
In his own words, Coach Lampley talks about his career. Videos by Grant Brunstetter.