State Champs!
Rocks Place 8th - 11th on Way to 19th CC Crown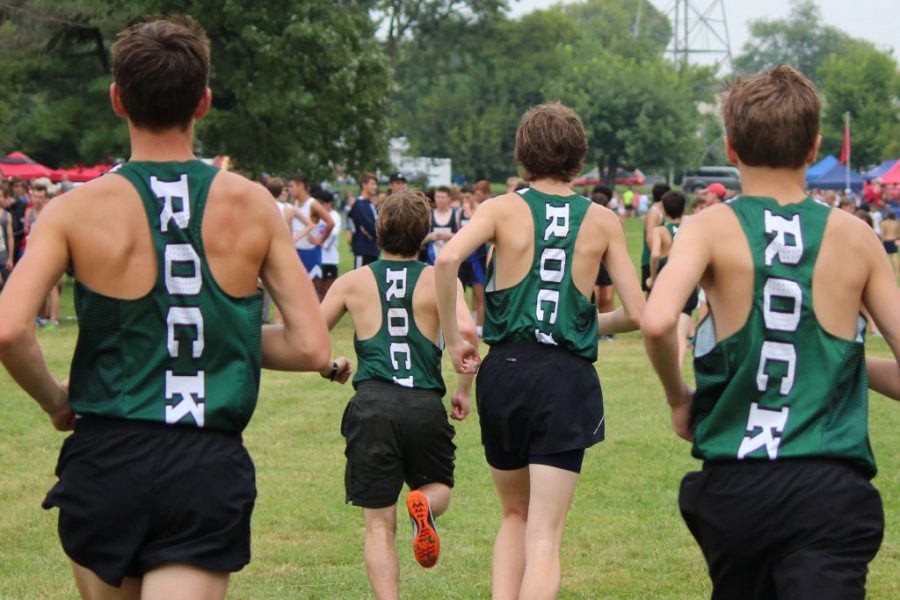 ECHO Staff
November 5, 2018
The Rocks captured spots 8 through 11, with only two seconds between them, on the way to a dominant state-crown finish in the KHSAA's 3A Cross Country State Championships, Nov. 3 at the Horse Park in Lexington. The school's 19th championship was the first since 2010.
Trinity outdistanced runner-up St. Xavier 54-112, followed by Madison Central, Oldham County and Manual.
Led by Jack Baum's eighth-place finish in 16:24.80, the following Rocks barreled across the finish line: Bryce Dunn (ninth, 16:25.17), Nick Lewis (10th, 16:25.89) and Shane Williams (11th, 16:26.17).
True Teamwork Leads to Crown
by Andrew Cawood, Staff Reporter
Eyes roll back, body goes numb, screams to get up and consciousness regained — these seven runners have just endured the hardest 3.1 miles of their lives.
The Trinity Shamrocks had won their 19th state title on a brisk Nov. 3 morning at the Kentucky Horse Park in Lexington, Kentucky. This was their first title since 2010, and they coasted through the competition.  
"
I knew we had won about 10 seconds before the finish line. When I came across the line with all my brothers, it was an indescribable feeling."
— Trinity senior Shane Williams
The Trinity runners — Jack Baum, Bryce Dunn, Nick Lewis, Shane Williams, Ryan O'Dea, Nick Stauble and Nick Michels —  came barreling across the line nearly as one.
The first four runners — Baum, Dunn, Lewis and Williams –finished eighth through 11th within two seconds of each other. This had never been done in Kentucky state meet history and was the tightest 1-4 split among high schools in the country.
St. Xavier had the opportunity to four-peat, but Trinity prevailed by the dominating score of 58-154.
"The feeling was unreal. I have never felt this good in my entire life," said senior captain Williams after learning that he and his teammates had won. "I was so nervous before the race, I thought I was going to throw up. This was the most important race of the year, and we had a lot on the line. Going into the race, I was number one on the team, so I was expected to perform my absolute best."
Of the first mile Williams said, "Nothing was going through my head except to get and maintain my spot in the front."
The looks on the runners' faces as they came up the hills said it all. Williams, who hopes to find a D1 college to run for next year, said, "I knew we had won about 10 seconds before the finish line. When I came across the line with all my brothers, it was an indescribable feeling."
Stauble was the strong sixth man of the team, a crucial spot.
"With that in my mind, I was so unbelievably nervous before the race, but I tried to channel that nervous energy and use it to get hyped," Stauble said. "The whole race I was just thinking, I need to speed up. After the race, the emotions came. I saw coach crying tears of joy, all the fans with huge smiles — I was never prouder to be part of something. I love the people I did it with."
Michels had very similar emotions. He said, "I knew we won when I saw coach (Craig) Kannapel scream at the top of his lungs. That was the happiest I have ever seen him."
Of his champions, head coach Scott Holtzknecht said, "I have seen all of the hard work and dedication, and I have never been prouder of this team."
Reflecting on the race, Holzknecht said, "Before the race I was nervous. I knew our team had a good chance to win, but we couldn't expect anything. Going through the mile, we were in a great place. We had four out front with St. X nowhere in site.
"The last 200 meters were the best. I saw Jack Baum come up the hill; then all of a sudden Bryce Dunn was next to him; then appeared Nick Lewis off to the side from Bryce, and Shane Williams was closely following.  At this point I knew we had won."