Shamrock Hospitality at Its Finest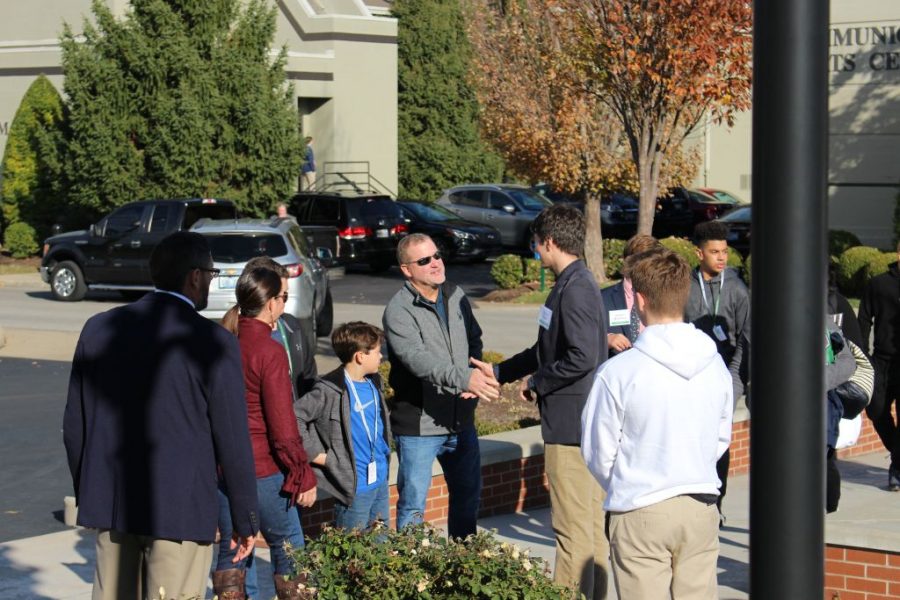 ECHO Staff
November 14, 2018
Following a beautiful late fall Sunday afternoon that saw 1,200 guests visit Trinity's Open House, Director of Admissions James Torra expressed his appreciation to the school community: "I can't thank everyone enough for the time and effort you put forth showcasing everything we have to offer.  From the sparkling campus to the delicious Culinary Club food, engaging activities, and everything in between, everyone did a GreaT job!
Torra pointed to the next step in bringing in the Class of 2023: the Placement Test on Saturday, Dec. 8 at 9 a.m.
Fine-Tuned Open House a Hit with Guests
by Preston Romanov
Staff Reporter
A college-like atmosphere. Greetings all around.  Proud tour guides show off the campus.
A science lab classroom with hands-on lab experiments. A state-of-the-art TV studio.
Appetizers made by the Culinary Club. Delicious homemade cookies brought by Shamrock Moms.
You finally receive a Trinity hoodie and excitedly put it on. You realize you are right at home for your high school choice. 
"
Trinity made me feel right at home. I liked it very much."
— Eighth-grader Ben McBride
This taste of what the Nov. 11 Trinity Open House was like involved more than 300 volunteers — students, alumni, faculty and staff, board members and parents all coming together to welcome more than 1,200 guests visiting the school on a beautiful fall Sunday.
Trinity's Director of Admissions Mr. James Torra said, "The Open House is a great event that helps gives us an opportunity to show the community of Louisville why we are great. We send out invitations to all prospective families, grades six through eight."
This year's Open House saw some changes and additions. "We used Shamrock Hall as the welcome center this year. It was a bigger and more comfortable way to welcome everybody.
"We are now offering families either a full campus tour or a personalized tour, and so either you'll get to see the whole campus and get the feel of what it is or get to pick the spots (you) want to visit. It's a better idea to see families — coming back for a second or third time — because if they're just into the science curriculum or want to go and spend time with the theatre department or go and learn about the art offerings or English offerings, they now can."
Reactions to the Open House from the visitors that walked the campus were very positive:
Eighth-grader Ben McBride: "Trinity made me feel right at home. I liked it very much."
Oliver Zahirovic, a seventh-grader: "There are so many extracurricular activities here. I just love that. So much to do."
Eighth-grader Robdey Lindsey: "It was a very good experience. I prefer a full tour of campus because I enjoyed seeing everything. The weight room was my favorite."
Eighth-grader Sebastian Walters: "A great experience. The guys here are awesome and inspiring. I loved the staircase and the mural above it."
Seventh-grader Peyton Helmerich: "Really good and I had a lot of fun. I loved learning all about the House system here and block schedule sounds amazing."
Seventh-grader Hayden Deitz: "I enjoyed it very much. My favorite part was the world languages, technology and science labs."
Year after year the Trinity Open House remains a major success.
Trinity Dean of Studies Mrs. Jennifer Browning said, "Mr. (James) Torra does a phenomenal job of putting all of this together at our Open House."
Torra said, "The day after the Open House, we begin planning work on the next, and it's something that's a yearlong-type process. It's a big team effort from every teacher, faculty, staff members. It's a community event."