FLIK Makes Lunch One of the Best Parts of the Day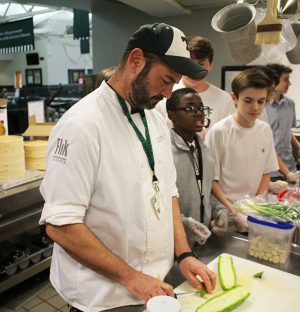 Students rush down the hallway, the smell of pizza, burgers, and burritos getting stronger by the step.  Finally, they sit down with a tray of delicious food. This is an average lunch period at Trinity, for many students one of most important parts of the school day.
The FLIK team at Trinity  is one of the best. The two chefs in the kitchen are Executive Chefs Lee Ashbrook and Jeremy Williamson, who oversee lunch preparation every day.
The FLIK menu includes many different items. My favorite, and that of many students, is the burrito.
Other students, sophomore Mark Ross, for example, like hamburgers.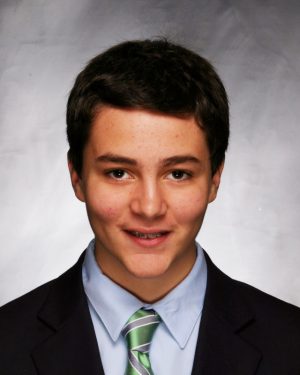 Sophomore Cole Riesen is a fan of the buffalo chicken calzone.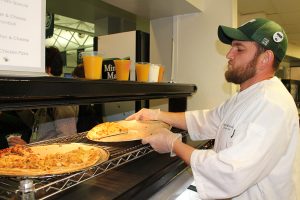 If any of the food items aren't to your liking, there are going to be some new choices added this year. "We are doing something called Traveling Flavors this year. It features barbeque from different states," Chef Lee said.
This is a very cool idea. Many people just know barbeque around Kentucky. This will let people taste different types of barbeque from around America.  
"
Many students are enjoying the amazing lunches this year, and it's obvious why."
The kitchen is also introducing three different sliders — a beef slider, a beef brisket slider, and a sweet potato slider. This is a strong addition because many people like sliders.
You may have noticed a different taste to the burgers this year. That is because the kitchen is using Kentucky Proud burgers.
Chef Lee said, "The beef is 100 percent from Kentucky and impacts local farms. It also gives the students a fresher burger."
The chefs have also been focusing on vegetarian entrées.
Students may have noticed there is a new option for cookies. FLIK has added gluten-free cookies and buns, another good offering.
Do you get breakfast before school or snacks after school? At Trinity, you can.
Riesen said, "I get breakfast every day."
I buy breakfast on Wednesdays because of the 9:00 start. Among the many breakfast items are tater tots, cinnamon rolls, doughnuts, breakfast sandwiches, and sometimes doughnut breakfast sandwiches. My favorite is tater tots.
Many students may not know about the after-school snack shack, which Chef Lee started in 2007.  Students can get pizza, among other snacks.
Another thing I really like about lunches at Trinity are the short wait times.  Ross agrees.
"It takes me about seven minutes on average to get my food," he said.
In addition to a varied menu, serving at different times during the day, and short wait times, I also like the fact that Trinity rewards students for making the honor roll by getting to go to lunch early. Those extra two or three minutes get students far ahead in the lunch line.
Many students are enjoying the amazing lunches this year, and it's obvious why.