Top Times Stacking Up for Trinity Sophomore
Dylan Ernst Passionate About Sports Stacking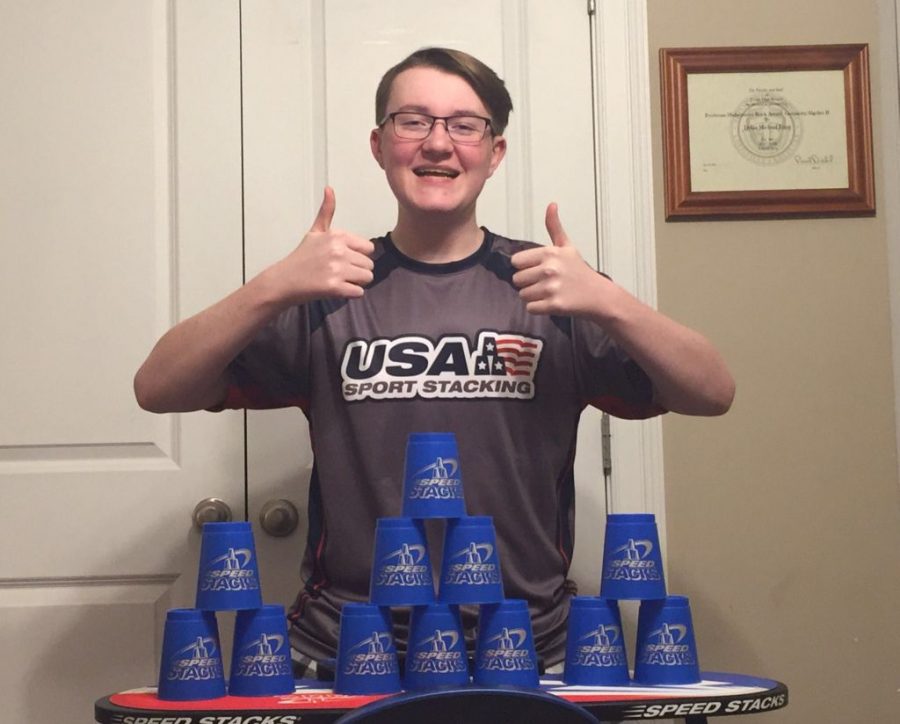 Aidan Koch, Staff Reporter
March 8, 2019
On your mark, get set, STACK!
Trinity sophomore Dylan Ernst is taking the sports stacking world by storm. Ernst currently ranks fifth in Kentucky and plans to keep improving.
Ernst's past tournaments results, according the World Sports Stacking Association, are impressive: 1. Great Lakes Regional Sport Stacking Championships 2018 (time 12.251, rank seventh) 2. Tennessee State Sport Stacking Championships 2018 (16.794, eighth) 3. St. Louis Open Summer Fun StackFest 2018 (14.115, 11th) 4. Great Lakes Regional Sport Stacking Championships (16.649, 20th).
Sports stacking originated in the 1980s in southern California, but it didn't receive national attention until the 1990s. It got this attention from a segment on the "Tonight Show" starring Johnny Carson.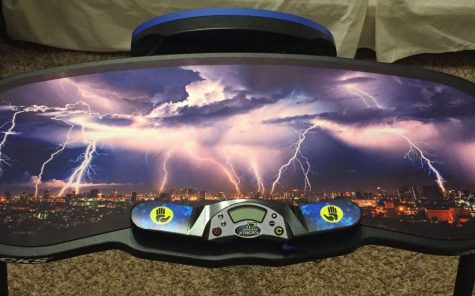 From Montana to South Korea, sports stacking tournaments take place in a wide variety of places.
Ernst hasn't competed outside the country yet, but has competed in a variety of places in the United States, among them Connersville, Indiana; Nashville, Tennessee; and St. Louis, Missouri. Ernst hopes to compete in many more places around the world against pros. 
"
He is muy bueno and will go pro."
— Dylan Fox about his friend Dylan Ernst
Ernst sports stacks for various reasons. He said, "There are moments where you break through your best record, and it feels good." He also pursues the sport due to the support he receives from his friends.
Striving to maintain his 4.00 GPA, Ernst always studies hard. He said, "Balancing school and practicing sports stacking can be tough, but with enough effort, you can get through."
Ernst's parents help him by taking him to competitions and encouraging him to do well in both school and sports stacking.
Ernst got his inspiration to do sports stacking from friend Carson Brown, who lives in Lexington. He saw a video of Brown on YouTube and knew that he wanted to get into it.
Will Hodge and Dylan Fox, two of Ernst's good friends, also support him.
Hodge said, "Dylan is good at cup stacking and will do it competitively."
Fox added, "He is muy bueno and will go pro."
Ernst started sports stacking when he was in the sixth grade at the age of twelve. He usually practices in his room where there are no interruptions. He says that cup stacking requires a lot of concentration and repetition.
In sports stacking, there are multiple events: the 3-6-3 — stacking two groups of three cups and one stack of six cups between them. One of Dylan's fastest times for this event is 2.765. The world record, held by Chang Keng Ian, is 1.713.
While they are only about a second off, that second means everything. Ernst knows he has a long way to go, but he also knows he is improving.
Not a lot of equipment is required for people who want to do sports stacking. Dylan uses a Speed Stacks Sports Pack for  practice.
This pack uses a color code to help people practice. The blue cups are for warming up; the green cups are for teaching techniques; and the red cups are for cardio.
The purple cups help with manipulative and cognitive skills. The yellow cups are used for cooling down. Finally, the orange cups are for skill assessment and testing times. Ernst uses these methods to practice.
The final piece of equipment needed is a pad to stack cups on. This pad also has a timer built into it that helps keep track of improvement. When stacking, competitors put their hands on two points to begin. As soon as hands are taken off, the timer starts. When hands are put back, the timer stops.
Ernst has also gained some attention by posting videos of himself sports stacking on Instagram and YouTube.
Overall, Ernst enjoys sports stacking because it is fun, and he likes the amount of concentration and effort required to do well in competitions. Ernst feels satisfied whenever he beats his fastest time, and it pushes him to pursue his sports stacking career even further.
He said, "When you keep doing it over and over again, you get faster."
Trinity's Dylan Ernst demonstrates his cup stacking skills……………….videos by Aidan Koch