Let the Games Begin — eSports Competition Starting at Trinity
What if I told you, you could be making half a million dollars a month playing your favorite video game professionally.  People all around the world have dreams about playing video games for a living, especially after recent professional gamer Tyler Blevins, better known as Ninja, started bringing in more than $500,000 a month playing the popular eSport game "Fortnite."  Blevins reportedly has more than 14 million followers.
The dream seems like it can become a reality for young eSports players at Trinity when competition begins this fall.
As many know, Trinity has a Video Gaming Club that meets a couple of times a week and plays a variety of games, among them "Super Smash Bros." and "Mario Kart." The club competes only among members, and one purpose of the club is a social gathering.
So how does eSports differ from the Video Gaming Club?
Mr. Allen Hornung, network and security administrator for Trinity's Information Technology department, said, "The new club will be focused on more specific games and be more competitive outside of Trinity. The new club will be competing at meets and tournaments around the state."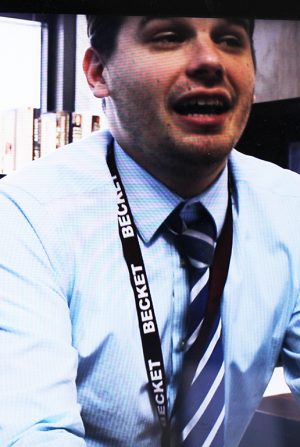 Hornung, who works with Director of Information Technology Mr. Kevin Wangler on the project, said many other schools take part in competitive gaming. "Competitive gaming is becoming a big thing out West and moving towards us. Schools are getting clubs and teams together," he said.
The eSports competition should be popular at Trinity. An online survey through the Trinity website described the eSports project and asked if students would be interested in such an activity. Hornung said, "There was way more interest (in eSports) than teachers expected."
The interest was obvious when talking to students.
Sophomore Kaleb Faust explained how he gets better at playing eSports:  "Just like anything else, to get good at eGames takes repetition. Playing the games several times and using different tactics to see what works and what doesn't work is the main way I got good at eGames like 'Fortnite.'"
One thing that separates sSports from other games is the amount of teamwork involved. Most eSports have popular game modes that bring a more social aspect to the experience. The game modes also allow more teamwork-driven game play through online communication.
"
Just like anything else, to get good at eGames takes repetition. Playing the games several times and using different tactics to see what works and what doesn't work is the main way I got good at eGames like 'Fortnite.'
— Trinity sophomore Kaleb Faust
There are many friendships started from communication through eSports. Faust said, "I enjoy playing more with friends than by myself. It feels like a whole different game when I'm playing with friends versus when I'm playing solo."
Sophomore Nick Hodges agreed with the importance of teamwork. Of the process to pick games, Hodges said, "They should pick the games that are being played by competing teams, they should play games of popular interest within the club, and they should play games that stress the importance of teamwork because we can learn a lot from that."