Senior Explores a Different Panama City
Aidan Koch, Staff Reporter
July 2, 2019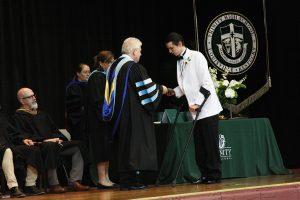 For 2019 graduate John Michael Cristofoli, spring break was not the typical trip to Panama City.
Cristofoli and some of his family, including his aunt and uncle Terra and Patrick Boone, went to the country Panama and experienced some amazing thing.
There was a very wide variety of things to do and places to go in Panama. Everything was beautiful, especially the white, sandy beaches and the amazing skyline, which, according to Cristofoli, looks similar to the city of Chicago. Some of the places they visited included the Panama Canal, the San Blas Islands and Casco Viejo.
Cristofoli and his family stayed in Panama City, with a beautiful view of the ocean and lit skyline at night.
"Panama City is a melting pot of cultures from around the world," Patrick Boone said.
In the early 1900s, the French started digging the canal in Panama. They brought Bermudans and Asians to Panama to assist with the canal. Ultimately many different cultures, including Germans, Italians and French, settled there.
The first thing Cristofoli and his family did was go to the Panama Canal. The canal had a very important impact on the economy of Panama. Visitors can usually see boats crossing the canal.
The next day the group went to visit an Indian village known as the Embera. They took small boats made from carved trees called cayucos. They took the cayucos and went up the river into the village. There, they learned all about the Embera's culture, how they live, their medicine, and more.
"We were also given lunch from fish gotten from the river," Terra Boone said.
After visiting the Embera, they made a drive to Santa Catalina. Santa Catalina is a small surfing village where most of the natives speak Spanish. Cristofoli even surfed for two days.
After this, the family took a Panga-style boat to a little town called Bahia Honda. Methods of communication are very limited there. The only way to make a phone call was with a satellite phone. Here, they did some camping and made friends with some of the locals.
Cristofoli's family and the locals helped each other out. The locals let them stay on a covered deck called a rancho.  Cristofoli's family  brought food and prepared it for the locals.
Cristofoli also got scuba certified at a national park called Coiba in Isla Coiba, which is a World Heritage Site. People come from all around the world just to scuba there. The beaches have white sands, nice waters, and are very remote, four to five hours away from the nearest hospital.
This place was also a nursery for corals and other fish species from the Galapagos Islands.
For Cristofoli, the trip to Panama surpassed all expectations. He said, "I met a lot of great people and the trip was amazing."