Evelyn Fultz — Rest in Peace
The Trinity family lost one of its greats on Monday when Evelyn Fultz passed away at the age of 92. 
From the fall of 1954 through 1995, Evelyn was a mainstay of Trinity, working as administrative assistant for the Rocks' first four heads of school.
Trinity President Dr. Rob Mullen '77 remembered Evelyn fondly:  "As scores of other alumni will also be able to say, she was especially kind to me when I was a student at THS. She was one of those '8-12' people we talk about."
Visitation will be Friday from 1-8 at Ratterman's in Middletown; a vigil service will occur at 4 p.m. Her funeral mass will be Saturday at 11 a.m. at St. John Paul II Catholic Church on Goldsmith Lane.
Evelyn's THS Hall of Fame plaque inscription is below:
May her soul, and the souls of all the faithful departed, through the mercy of God, rest in peace.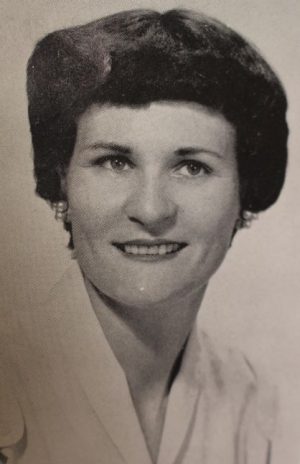 Evelyn Fultz
Evelyn Fultz H'93 was the chief administrative assistant to Trinity's first four heads of school and the first woman inducted into the Trinity Hall of Fame. At the time of her induction, she was the longest-serving staff person in school history. She was the person behind the "man in charge," the juggler of all things needing administrative attention and a dedicated servant to Trinity.
Evelyn came to Trinity in the fall of 1954 at the invitation of Trinity's first principal, Monsignor Alfred Steinhauser. She had met "Steiny" when he was pastor of St. Aloysius and she had done the parish's books. Steiny had only a day or two of work for Evelyn to do at Trinity. She stayed for 41 years, performing nearly every job there was to do.
Evelyn served Trinity principals Msgr. Alfred Steinhauser, Dr. David Hazelip H'96, the Rev. Thomas Duerr H'92 and W. Peter Flaig H'00. Her energy and commitment to Trinity were boundless. Whenever there was a job to do, her attitude was that "if we all pitch in, we can get the job done in no time." And that's exactly what happened.
Evelyn had a knack for organizing and motivating the office staff to work as a team and get big jobs done while tending to the routine, efficient operation of each office. Noted for her care and concern laced with a devilish humor, Evelyn made a lasting impact on Trinity faculty and administration alike. Although her dealings were mainly with adults, she loved working in an environment filled with students. All in the Trinity Family held a special place in her heart.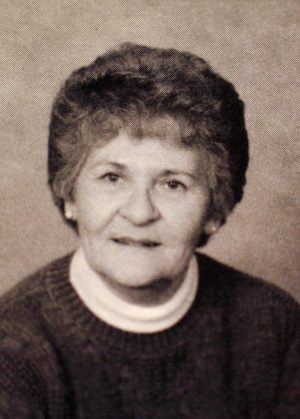 Evelyn is truly one of Trinity's pioneers. She was here as the various administrative offices were formed and grew. Her organizational touch and management philosophy are still evident in the workings of these offices today. In the days before computers, Evelyn did it all – tuition, attendance records, report cards, financial records, cafeteria accounts and student permanent records. She also typed exams for teachers, did class rosters by hand and initiated Trinity's use of coupon books for tuition payment. She worked for decades in the era of no air conditioning, rotary-dial phones, manual typewriters and less specialization.
In addition, Evelyn was instrumental in changing Trinity's class ranking system. In the early 1960s, she and Trinity teacher Rev. C.J. Wagner initiated a point system based on the level of difficulty of a student's course load. Today's students have Evelyn and Father Wagner to thank for their level of difficulty being considered in their class ranking.
In 1984, Trinity's students honored Evelyn by dedicating the Shamrock yearbook to her. In 1993, Evelyn was named an Honorary Alumna of Trinity. Evelyn retired from Trinity in 1995. Her legacy is a model of service, loyalty and dedication. During the time of Trinity's early years, when the student population grew and our traditions took root, Evelyn was there to manage and direct the support service infrastructure, allowing Trinity to flourish. Evelyn and her late husband, Chet, have one daughter, Jeanne (Assumption, 1965); two grandchildren, Jim (Trinity, 1989) and Curt (Trinity, 1991) Meyers; and three great-grandchildren: Morgan, Kaitlyn and Noah.
Inducted 2007