Students Add Artistic Touches to Trinity Theatre Sets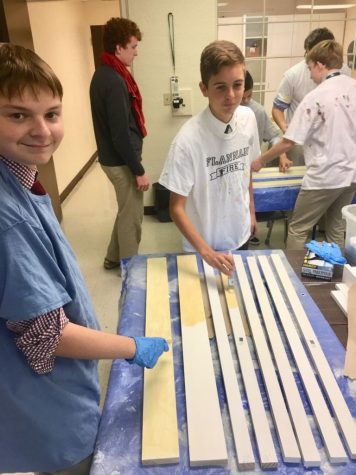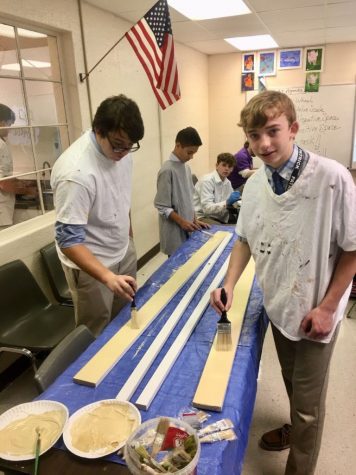 For the past couple of years, Mr. Alan Wilson's Art I classes have worked on cross-curricular projects with the Department of Theatre Arts. When Trinity producer/director Ms. Kate Reedy took over the Trinity Department of Theatre Arts productions, she asked the Art I classes to help with parts of the set.
Art I students created 1980s style rock-and-roll posters for "Rock of Ages," giant wall banners for "1984," jungle leaves and flowers for "Tarzan" and now "windows" for "The Three Musketeers."
Although the latest project may seem less exciting than previous ones, it is just as important to the set as the others. Creation of the windows followed a precise process: Wilson used measurements from the theater's official stage drawings to cut wood trim pieces to the correct length.
Students then painted the background sky and frame for the faux windows. Next they attached the background board to the window frames. The window frames were attached to the walls of the set.
Wilson said, "The Art I students learned a lot about color mixing and matching. Students blended paint to create the blue tints of the sky."
The art students' work will be on display at the opening of "The Three Musketeers" on Oct. 30.  — with help from Mr. Alan Wilson