How Many of the New Rocks (not freshmen) Have You Met?
Fourteen weeks in, how are things going? Have you had a chance to meet the new people on campus — not called freshmen!? 
Among the dozen new members of the faculty and staff, some are alumni, and one is an alum who worked at Trinity for many years and has returned.
Ms. Brooke Bond 
Bond has joined the Trinity Foundation/Alumni Office, working with Ms. Carrie Joy. Having previously worked in the athletics department at the University of Louisville doing marketing and special events, Bond has been a stay-at-home mom for the last 10 years with her two sons.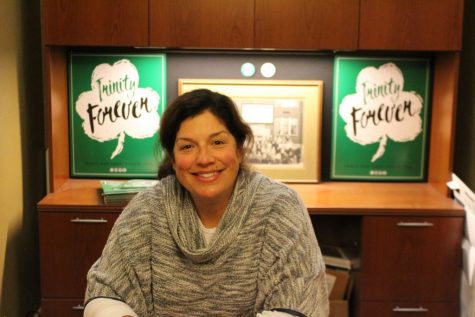 Of her work at Trinity, she said, "It's all about raising money for scholarships and financial aid. I want to learn as much as possible in our database and alumni side. A major part of my job is keeping track of the Trinity family and the extended family. It's really meaningful."
Outside of school, Bond, who likes to run and spend time with the family, has been a volleyball referee for 30 years.   
Of working at Trinity, she said, "I'm learning that there is a real family here; I'm just working part–time but have really felt welcomed from the beginning as part of the Trinity family, and now I feel a part of that." 
Ms. Kenzi Butler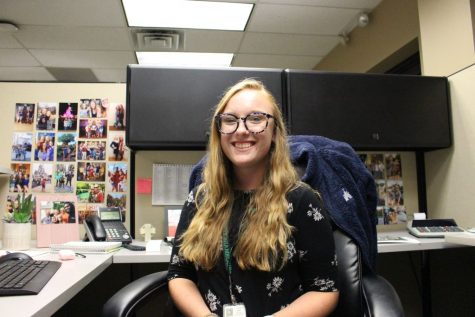 Butler is Trinity's new Digital Media Coordinator. Having previously worked at Disney World in Florida as a training cast member for the kids and safari driver at Disney's Animal Kingdom Theme Park, Butler decided to return to Louisville.  Butler graduated from Assumption High School and Belmont University.  
Of working with digital media at Trinity, Butler said, "There's a lot of testing things to see what works and what doesn't; it's been fun learning about the Trinity community and all the events that this school does." 
Butler, who has a dog named Nala, enjoys walking and watching movies.
Ms. Rachel Hall 
Hall, a new mathematics teacher and a member of Becket House, previously taught at Holy Cross High School for seven years and last year was the school's assistant principal.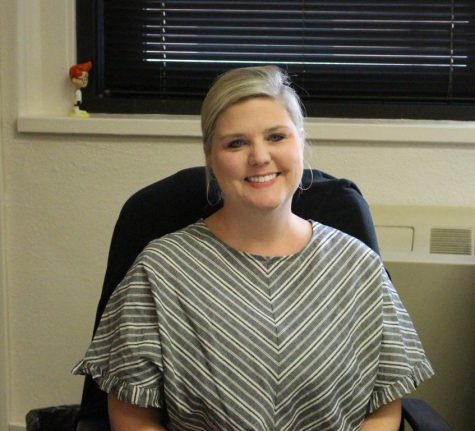 Hall described working at Trinity as her "dream job — the way the school is run, from the block scheduling to the drug testing and intervention to the House system, all those aspects. I believe in the (Trinity) mission and the way it can educate young people. 
"The faculty and staff are fabulous here; they really go out of their way to make sure I am comfortable and have everything that I need." 
When talking about her goals for the school year, Hall said, "To me, it's about respect and rapport. I want to earn the respect from the boys and develop a relationship with them. Once you have that credibility established, they're willing to learn." 
Outside of school, Hall, who has two boys, reads, cooks and likes to spend time at the lake. 
Mr. Tyler Harris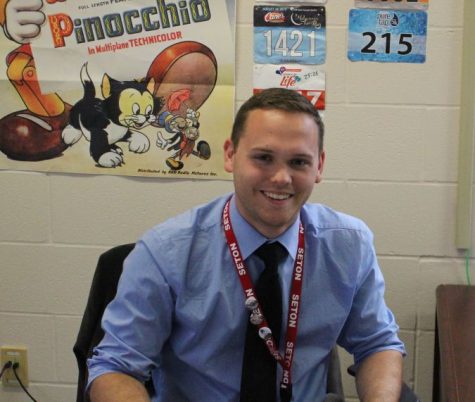 A 2014 Trinity graduate, Harris is a member of Seton House and teaches English as well as Broadcast Journalism. Harris is the moderator of this year's TTV broadcast. Before coming to Trinity, Harris graduated from Bellarmine University; he was the manager at Baxter Avenue Theatre, a local movie theatre in Louisville that screens a mixture of mainstream films and arthouse films. 
He said, "Trinity molded me into what I was becoming. I knew when I graduated from Trinity, I wanted to be an English teacher." 
Harris attributes much of his interest in teaching to the influence of Mr. Gary Owens, who taught Harris and is now not only a friend but a colleague.   
Outside of school, Harris loves to run, read and write; he keeps a "film diary of every movie that I watch. I have a written over a thousand film reviews."
Harris' favorite movie is "There Will Be Blood."
Mr. Jeff Hurt 
Hurt a member of Seton House, teaches German and Spanish in the World Languages Department. Having previously taught German at Indiana University Southeast for the past four years, Hurt spent 10 years living in Austria working as a Fulbright teaching assistant.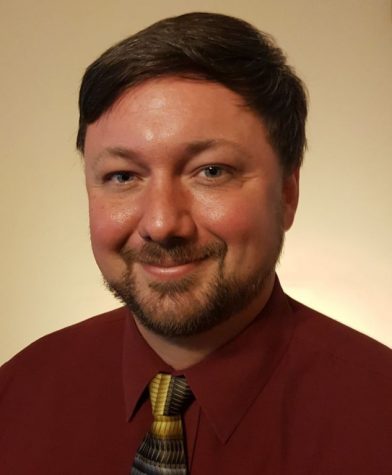 Hurt has done freelance translating, part-time teaching, and worked with physically handicapped adults.  
Of working at Trinity, Hurt said, "To be able to use the skill set that I have is what motivated me to come to Trinity."
Last year Hurt worked as a substitute teacher for Mr. Steve Tompkins, who was on temporary leave during semester two. 
Of his goals for the school year, Hurt said, "I want to give a sharper focus for my students to get a big picture of the Spanish and German program." 
Outside of school, Hurt enjoys cycling and playing guitar; he participates in multilingual discussion groups and spends time with friends, family and his dog. 
 Ms. Kathy Kiefer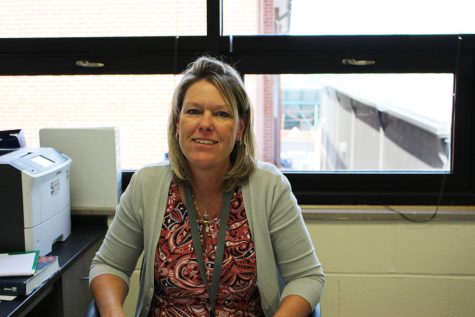 Kiefer, Trinity's new chemistry teacher and member of Merton House, previously having taught middle school science at St. Bernard and St. Aloysius. She was a former chemist at Advanced ChemTech. 
Kiefer said she "always wanted to teach high school." 
Her goals for the school year are "sharing my knowledge and creating some excitement about chemistry. We need people to go out in the field and be the next big researcher and cure some of these diseases or invent the next big thing." 
When talking about what motivated Kiefer to come to Trinity, she said, "I am impressed with the amount of support through counseling and academic services offered here for the students. Block schedule really does help with labs and get people experimenting in the lab." 
Outside of school, Kiefer enjoys outdoor activities and going to the lake.  
 Mr. Ryan McCauley 
A 2013 Trinity graduate, McCauley is this year's new Admissions Coordinator. Having previously worked at Summit Media, doing radio and digital advertising, McCauley is glad to be back at Trinity.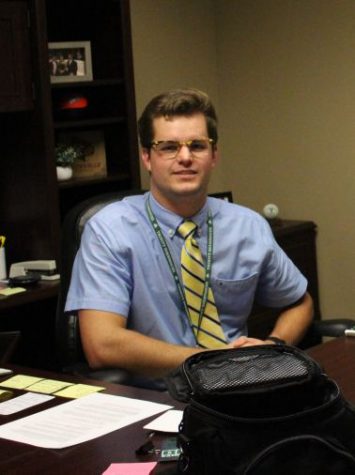 He said, "The goal for me is to bring in a great class. I really want the Class of 2024 to feel comfortable and feel prepared when they come here — for this to be a place these guys can call home and feel that Trinity is the right place for them." 
Outside of school, McCauley is a coach on Trinity's lacrosse team, was head coach of U of L's lacrosse team, and sometimes does photography and videography. 
Mr. Ethan Morris 
Morris, the new Advanced Program social studies teacher at Trinity and a member of Becket House, previously taught social studies at North Oldham High School for three years. Of his goals for the school year, Morris said, "I want the House to be a success and to get them more involved, prepare the students for the AP exams, and to have them walk away enjoying the experience."
Morris is already making full use of Trinity's resources. He said, "I used the virtual reality glasses in my classes." 
Outside of school, Morris is an active hiker and does a lot of reading. 
Mr. Michael Payne  
A 2019 Trinity graduate, Payne is this year's Technology Support Specialist. Of working with Trinity's technology, Payne said, "I'd been working here every summer since freshman year in the IT department and was very fortunate to get the job."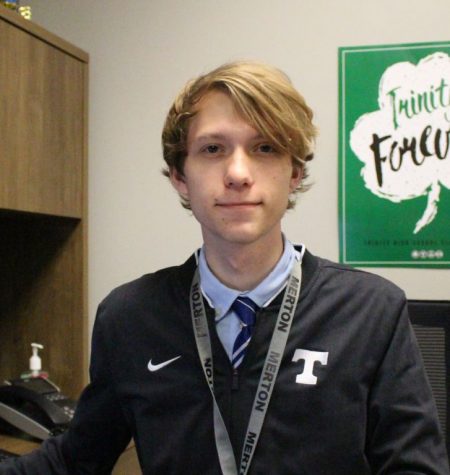 A full-time student at the University of Louisville's Class of 2023, Payne said, "Anything that a teacher needs help with, any problem that needs done, I will go and fix it." 
Payne works with any technology problems, getting accustomed to the school's new wireless projector system Airtame. 
Outside of school, Payne does some freelancing by coding on the weekends. 
Mr. Will Savick  
Savick joined Trinity's Operations Department. Having previously worked at Louisville Paving since he was 16 years old, Savick said, "I like the camaraderie here, the faith-based part of Trinity."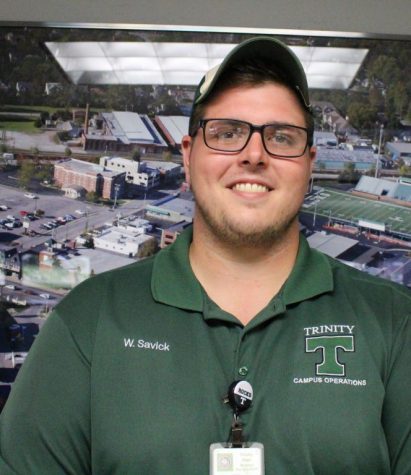 Savick's goal this year is to "get where you fit in and do your job."   
Savick likes to go fishing, hunting and mudding, and spend time with his family. 
 Ms. Megan Wine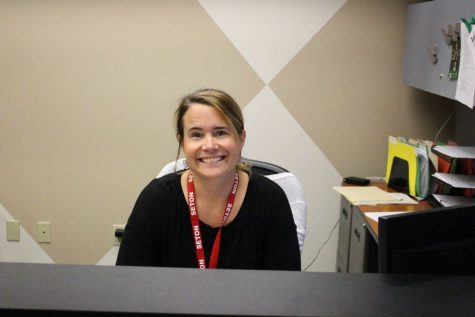 Ms. Megan Wine, Trinity's new Accounts Receivable/Bookkeeper, works with tuition and lunch account payments.
Of Trinity, Wine said, "I heard it is a great place to work and is all about adding value." 
Outside of school, Wine enjoys watching her three children play sports.   
 Mr. Travis Wagoner 
A 1991 Trinity graduate, Wagoner, who worked at Trinity for 17 years in Alumni Relations and Communications, has returned as Director of Alumni Relations.
Wagoner said, "Trinity is home. It was when I was here, and it is again."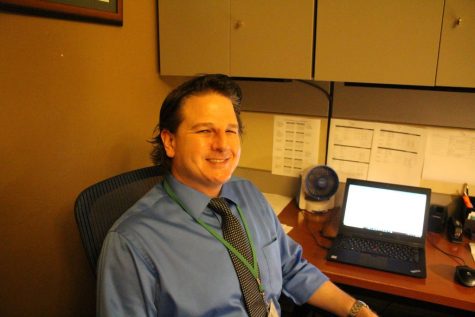 Wagoner is working with the financial aid and reconnecting with all the Trinity alumni.  
When talking about goals, Wagoner said he wants Trinity to "raise as much money as we can for financial aid so that more kids can have an opportunity to be here."
Wagoner reads a great deal, attends church at Holy Trinity and is a member of the Ancient Order of Hibernians, which is the organization that awards the shillelagh to the winner of the Trinity-St. Xavier regular-season football game.