Kentucky Youth Assembly Rocks Earn Slew of Honors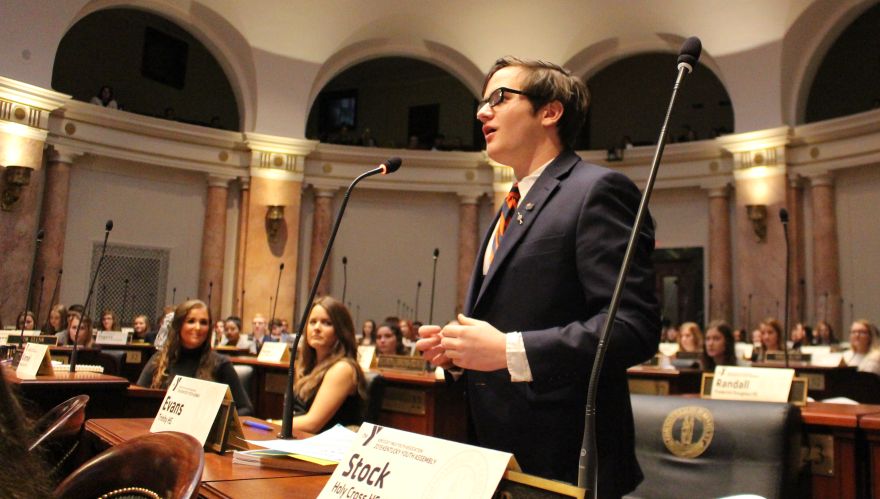 ECHO Staff
December 13, 2019
From Y-Club moderator Mr. Walter Mata:
With the leadership of our Trinity Y-Club presidents, Colin Grimm and Nick Huls, the Kentucky Youth Assembly was one of the most successful conferences we ever had. We earned so many awards as a delegation and individually. To close our fantastic performance at this conference, teacher Ms. Maria Martin, a former Y- Club Adviser, was inducted into the YMCA Adviser Hall of Fame.  Congratulations to all  KYA delegates for an amazing job well done, to the award winners, and to Ms. Maria Martin. Advisers of Trinity's Y-Club chapter are Mr. Jorge Serrano and Mr. Walter Mata.
Bills: 
Ben Taylor – Passed House and Senate, vetoed by the Governor and then overridden and signed into law — with Connor Romines as his lobbyist.
Armaan Rai, Caleb Grimm, Jack Corbett, Christopher Raymer – (BG) passed House and Senate and signed into law.
Ryan Groza and John Vanetti – (BG) passed hotel House chamber and hotel Senate chamber and signed into law.
Nick Huls, Porter Hunt, Gus Boyer, Michael Chou – debated at the capitol and was defeated by the House.
Awards: 
Outstanding Speakers: Walker Evans, Porter Hunt, Nick Huls, Ben Taylor, Armaan Rai
Outstanding Delegate: Colin Grimm
As a delegation, Trinity received honor level recognition for service, was named a premiere delegation, and won the prestigious Outstanding Statesmanship Award.
Peyton French served as the President of the Commonwealth Senate.
Preston Romanov served as an assistant editor.
Sra. Maria Martin was inducted into the Adviser Hall of Fame.