A Dominant Three-Peat for District Champion Academic Team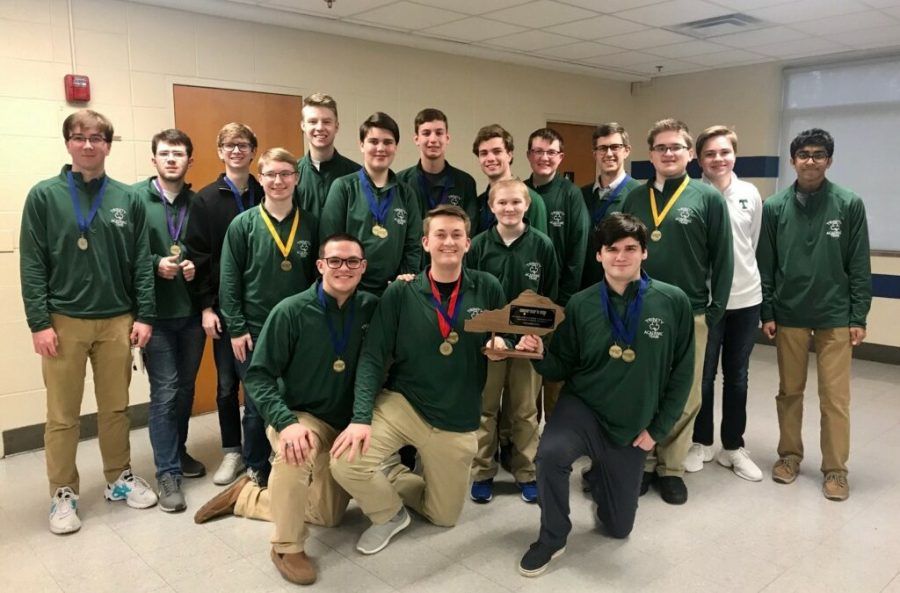 ECHO Staff
February 5, 2020
For the third year in a row, the Trinity Academic Team won the district Governor's Cup competition, held Feb. 1.   It was the fifth consecutive win for the quick recall team. The Rocks competed against tough competitors St. Xavier, Sacred Heart and Collegiate.
The quick recall team, led by seniors Nick Huls and Jack McCalpin, is now 17-0 in matches this year, beating St. Xavier and Sacred Heart twice.
Juniors Dylan Fox and Riley Moremen provided huge points, and subs Evan Baldridge, Aden Yeager, Will Hodge and Ethan Brunton also scored, rounding out the dominant performance.
The Future Problem Solving team — Michael Massey (captain), Logan Barker, Derek Limberg and Shane Limberg — finished third.
Rocks placed individually in the following categories:
English Composition – 1st………….Will Kempf
Math – 3rd………………Paul Springer; also advancing to Region — Jack McCalpin
Science – The Rocks had co-champions in Yeager and Moremen and swept the podium with Brunton placing 3rd.
Social Studies – 2nd…….Huls and 4th place…….Cade Watson
Language Arts – 1st………McCalpin and 4th place……Fox
Arts & Humanities – 1st place…….Fox and 4th place……..Huls
In total, the Rocks had five champions and a runner-up out of six subjects.
The team advances to Region play at Kentucky Country Day on Feb. 15 against the Eastern Eagles.
The teams are led by coaches Mr. Mark Amick, Mr. Jason Rand, Mr. Blake Napper and Mr. Tim Jones.
                                                                                                      — with THS Website