Finding God's Truth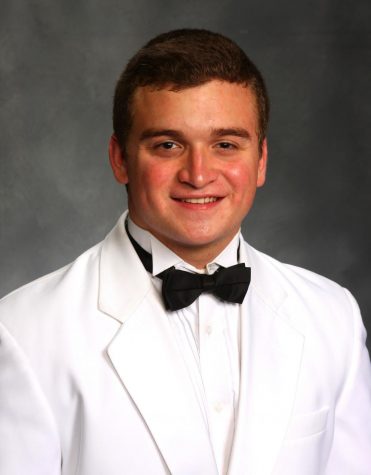 Picture a room full of more than 1,000 people locking their arms behind each other's backs.
A sudden, simple sway overtakes the crowd, and like a wave, the lyrics of the Rocks' Alma Mater move steadily through the silence.  This moment between Trinity brothers will forever and always be my most cherished memory. Singing the Alma Mater is not a one-time thing. It is tradition. Whether it be after Mass, after a victorious game or even a loss, the Alma Mater still rings out from Trinity's brothers.
It's hard to put onto paper, but there's an unexplainable feeling when those lyrics ring out.
"In her halls we find God's truth."
At school we see "the good" that God intended for us in the beginning. But we don't see God in bricks, paint and mortar. We see Him in each other. We see Him in our teachers' caring smiles and jokes — even the occasional "Sup?" in the hallways from a friend. Point is, God's goodness is in each other, especially in Trinity's halls.
"His wisdom echoes clear, 'neath the roof of Trinity, our Alma Mater dear."
God's wisdom is not shared; it's not even understood. But the wisdom that we do understand comes from our teachers, our coaches, our families. Students arrive at campus routinely at eight o'clock with the desire to learn. From classroom to classroom, you hear deep knowledge of forensics, classic movies, biology, English and so many more subjects. Not only is the knowledge shared with students, but it's shared in a way that students can understand.
"Loyal to the green and white, we stand united here, faithful to dear Trinity through each succeeding year."
If you know about Trinity, then you know about the generous alumni. There are countless alumni who come back to Trinity weekly. There is an abundance of people who donate. Even seniors now have been anxious to volunteer for a Senior Retreat, all due to their loyalty to Trinity.
"Raise your voice and shout her name, wherever you may be; may our love be known to all, our love for Trinity."
The chorus depicts the unconditional spirit of Trinity, the spirit that is so well represented by the lively spirit captains, famous Trinity chants, and overflowing student sections.
When it comes to Trinity, "friendship" is an understatement, and "brotherhood" is everything.