Reverbs from the ECHO Chamber — a Q & A with Mr. Geoff Norman
William Blevins, Staff Reporter
April 18, 2020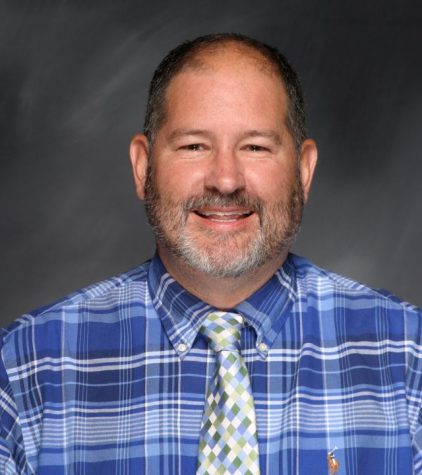 Another in a continuing series of Q & A interviews with Trinity faculty, staff and administrators.
Trinity teacher and coach Mr. Geoff Norman lived most of his life in Canada and learned to love the game of hockey. He grew up watching greats like Stan Smyl and playing hockey since he was very young. He played at many different levels including collegiate and coached at that level. Later he became a hockey coach and teacher at Trinity High School. Trinity hockey has been a big part of Norman's life and has created some of his favorite memories.
Q: What part of Canada are you from, how long did you live in Canada, and why did you move?
A: I was born and raised in Vancouver, British Columbia, and lived in Canada for over 31 years. I moved down to the United States, specifically to Eugene, Oregon, in 1997 to get married.
Q: In the NHL what player was a role model?
A: Big role model for me was a former Vancouver Canuck whose jersey is retired in the rafters, Number 12 Stan Smyl. He was a shorter guy, probably 5 feet 11 inches. He was a captain for many years, but he was all grit, played hard, worked hard and led by example. When we played ball hockey games as a kid, everyone wanted to be Stan.
Q: How long did you play hockey, and at what levels?
A: I started skating when I was three and continued to play hockey, all the way to junior B, and then I walked on at the University of British Columbia back in 1988 and played three years of varsity hockey at British Columbia.
Q: How long have you been a teacher and why did you become a teacher?
A: I always wanted to be a teacher. I got my degree in athletic training, and 30 years later I am back in teaching. I've been at Trinity teaching for four years, and before that I was a substitute teacher here at Trinity for two years.  
"
Trinity hockey. The word that comes to mind is tradition."
Q: How has hockey been an important part of your life?
A: Wow. Hockey has been a huge part of my life for close to 50 years, from either playing — and the last 29 years coaching as well as refereeing. I have enjoyed the time, the relationships, meeting people, traveling. It's been awesome.
Q: How long have you been a coach and at what levels have you coached?
A: I started coaching in 1991 at Hollyburn Country Club in west Vancouver, and have coached everything from mites (five- and six-year-olds) all the way to Division II college hockey at the University of Oregon back in the late '90s.
Q: What inspired you to coach?
A: The inspiration behind being a coach would be a couple things: (First) to give back — I had a coach back when I was in Peewees (11- and 12-year-olds) that had no kids of his own on the team. He just wanted to give back and coach. Bill Wurtz was his name, great coach. And (second) just always been wanting to be involved with the game and wanting to give back. So that's a big reason.
Q: What is your best memory from hockey that made you love the game.
A: I'd say the best memory was being together as a team while at Hollyburn. We went to back-to-back Pacific Coast championships, which was awesome, and we went back to back to the Provincial  Championships, which is a weeklong tournament. Just great memories,  finished second both years, lost in the final, but I still keep in touch with a lot of the players off the teams.
Q: Have relationships grown over the years with people on those teams?
A: Hockey's that one sport where you can travel, whether it be growing up in Vancouver to living in Louisville. You run into people that you might have played against or someone that played on a team. I have been fortunate enough over the years to have visited over 20 different NHL rinks — and not have paid for too many tickets just through the people I've met through hockey. Whether it be coaching or refereeing or played with, played against. So those relationships have been really important to me over the years.
Q: What does it mean to be part of Trinity hockey?
A: Trinity hockey. The word that comes to mind is tradition. Trinity hockey has been going on for now almost 20 years. I came on board five years ago. We have had some great teams, lost in the state title twice. But just the rides through the wins, losses and everything in between. It's been a lot of fun. You get to meet not only the players but their families — and to see each player grow and develop on ice and off the ice from a freshman to a senior. That's one of the great thrills.
Q: What is your favorite memory from Trinity hockey?
A: Wow, there have been a few. I'd say one that's personal to me would be (son) Parker from last year beating one of our archrivals, Owensboro. (We were in) Owensboro on their senior night, being down 1-0 the entire game, scoring the tying goal with three minutes. Parker scoring the game-winning goal with under a minute to go — and to beat that team on their senior night with all those stupid cowbells and with those fans — was awesome.