For Trinity President, Now is Time to 'Celebrate Every Senior' — a Q & A with Dr. Rob Mullen
Preston Romanov, Editor in Chief
April 16, 2020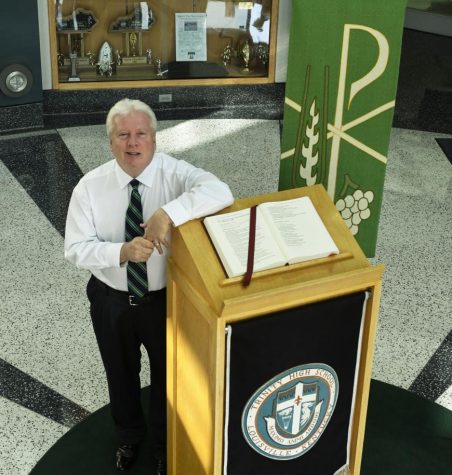 Dr. Rob Mullen is a 1977 graduate of Trinity. Prior to being named the school's second president in October 2000, he served as a full-time teacher, assistant soccer coach, Campus Minister, Director of Students (twice), Director of Development (twice), and special assistant to the president. He has a Master's Degree in Religious Studies, his secondary school principal's certificate, and a Doctorate in Education. He serves as the school's chief executive officer and reports to the Trinity School Board. He is also the President of the Trinity High School Foundation.
Q: What are your thoughts on the coronavirus and its impact on students' lives?
A: Oftentimes children look to their parents for how to handle unusual events. Well this time, none of us have a reference point for this experience. This is causing extra stress for everyone. It would help everyone if we knew when lives can get back to their usual routines. There is a word you hear a lot today: resilience. It is a little hard to say, but it captures perfectly what this time in history is teaching young people. Resilience means — you might knock me down, but I am strong enough to get back up. After this, every young person is going to be better equipped to face the rest of life's challenges.
Q: Why is it important for schools to be closed?
A: I saw a Tweet that said: Two factors leading to high instances of infection: 1. how dense is the population? (meaning how packed in are people, like in New York City), and 2. how dense is the population? (meaning how stupid are people being with not using social distancing and taking precautions). Until there is a steep decline in positive cases and an eventual vaccination, it is wise to keep our distance from each other.
Q: How have online virtual classes through Microsoft Teams been going? How will finals be affected? Are there plans for Trinity students to return in the summer for locker cleanout/book return?
A: I give students and teachers an A+ for effort using these virtual learning and teaching methods. Dr. Zoeller and his team have already announced we will not have finals this year. If we do get to return, we will use exam days as class days. We do not operate in a vacuum. There are guidelines we must follow. We certainly hope that everyone can return to campus to see one another, collect their locker belongings, and turn in their books.
Q: Will online school affect the credits Trinity students need to graduate? What will happen if the rest of the school year is canceled?
A: Fortunately, the shutdown occurred late in the school year. Once we got past using the "snow day" lessons prior to spring break, we returned with not many class days remaining, about 12 for seniors when you consider our block schedule. Dr. Zoeller has told teachers to carefully assign grades for this marking period and the semester in order to take this unique situation into consideration. Given all this, there should not be a need for any change in credit requirements. This favors our students because colleges trust that what we say about their work on a transcript is an honest picture of that student. Our school's reputation is a big advantage for our students. The school year is not canceled; it just isn't what we expected it to look like.
Q: Will the end-of-year senior events still happen? Will seniors still graduate? What is your advice to the Trinity seniors?
A: I think about our seniors every day. I want to say that it is perfectly OK to feel cheated out of so much of what the end of senior year should be. Two words: this stinks. It stinks for you and your family. It also stinks for us. We enjoy prom, dress-up and senior field day, the Pink-White Game, sports, plays, art shows, concerts.
At the same time I remind myself we were able to have many important moments this school year. We were able to have every one of our senior retreats. There were fun times in athletics, the fall play, intramurals, Christmas concerts, field trips, our Argentina visitors, and House activities. The college application process was completed for nearly all seniors. Very importantly, there were many great days spent with teachers and classmates in the ordinary (and now much more appreciated) ways that a regular school day brings.
Still, how do we properly end this Trinity experience for every senior?  That is what we are working on. The variable is when, not how or if. We want to be with our seniors again. I have been at this long enough to know that every day of the last weeks of high school are not perfect. So no one will miss some of that. What we want, though, is to celebrate every senior, to honor his work, to mark this important time in life. They deserve it. We relish doing it.