Reverbs from the ECHO Chamber — a Q & A with Senior Kaden Bates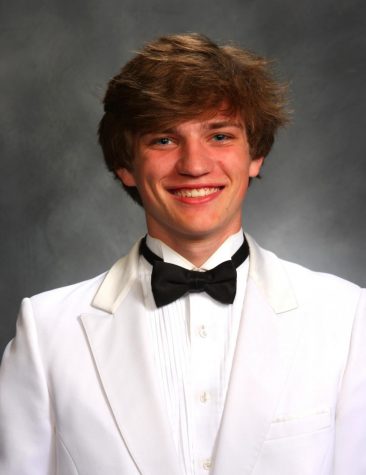 Another in a continuing series of Q & A interviews with Trinity spring sports student-athletes.
Trinity senior Kaden Bates, a leader on the lacrosse team, signed a national letter of intent with Transylvania University. Bates spoke about his time playing for the Rocks.
Q: When did you start playing lacrosse?
A: I started playing in third grade. I moved into my new house and became friends with a kid a few yours older. One day I saw him with a lacrosse stick and played with it for a while. I eventually got my own and loved playing, even though I was not good at all. I worked on my skills and got better and better over the years.
Q: What position do you play? 
A: I have played all the positions at some point in my career. I currently play midfield but more specifically offensive midfield. I trained to play this position since sixth grade. If a coach ever needed me to play something else, I could.
Q: If you could change your position, what would you choose and why?
A: If I changed my position, I would want to play goalie. I played goalie and I was pretty good at it. Obviously, I am not the best. But I feel like if I put in the extra effort and trained, I could be a solid player in that position.
"
The program made me grow not only as a lacrosse player but as a man of character and faith. I love these guys to death and would not trade the world for the experiences I have had with them."
Q: Do you like to play box or outside more? Why?
A: I am more of an outdoor player. I prefer having the space to set up plays and move rather than being face to face with the other team. There are pros and cons to both.
Q: What is one of your favorite memories from playing lacrosse?
A: My favorite memory is playing St. X my sophomore year on JV. We ended up losing the game, but just being in the moment felt amazing. All of the people screaming and cheering in the stands makes it that much better. It feels like you have the world on your shoulders. Even though your peers are chanting and screaming, it feels like you can't hear them because you are so in the moment.
Q: What is your highest scoring game?
A: My highest scoring game was my freshman year while playing in an indoor fall league game. I played for L4 along with Andrew Hamill and many other Trinity guys. We scored around 30 goals. It was lots of fun. It made us feel unstoppable. I'm pretty sure the other team had less than 10 goals.
Q: Any injuries during your lacrosse career?
A: My worst two injuries were a concussion and a sprained ankle. I got the concussion in eighth grade while playing for South Oldham. I was hit in the head and slammed against the turf. Hitting the turf is what gave me my concussion. When I sprained my ankle, I was in a groundball drill in practice. I was stepping over a stick while running and my foot landed wrong. All of my weight shifted over my ankle. I was out for a few weeks because of it. I am hoping these will be my worst injuries and nothing serious happens.
Q: Did you have a favorite team that you have played on?
A: Trinity without a doubt. Coach Pete and all of the other coaches make me feel like I am at home when playing for them. They care for me as a person and not just an athlete. All of my teammates are more than just guys that I play with. I know that all of them would be there for me if anything ever happened, and I know I would be there for them. The program made me grow not only as a lacrosse player but as a man of character and faith. I love these guys to death and would not trade the world for the experiences I have had with them.
Q: Is there a team that you considered your rival?
A: St. X. That is the main team we looked forward to playing every year. In the days before this game, it is all we can think about.
Q: If you didn't play lacrosse, what sport would you rather play and what position?
A: All of my friends know this and it is a joke with us all now, but I would play football. I really wanted to be a long snapper my sophomore year but ended up giving up on it. I still wanted to play lacrosse and figured it would be a lot to handle considering I want to play lacrosse in college.