Reverbs from the ECHO Chamber — a Q & A with Lucas Murphy '20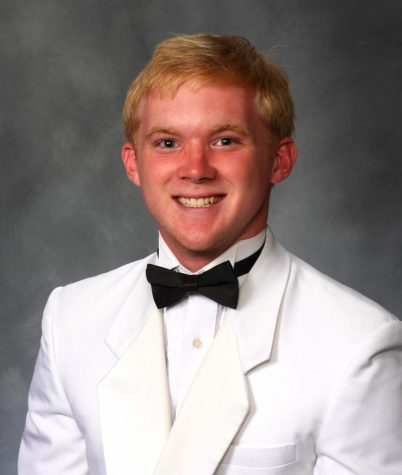 Another in a continuing series of Q & A interviews with Trinity spring sports student-athletes.
Lucas Murphy, a 2020 Trinity graduate, was a member of the talented baseball Rocks.  He signed a national letter of intent to attend Transylvania University. Lucas, an Eagle Scout, reflected on his years with the Trinity baseball team.
Q: Why do you like baseball so much?
A: My favorite aspect is what it has and what it continues to do for me outside of the sport. It has taught me an excellent work ethic and has given me connections and relationships to last a lifetime.
Q: Why did you decide on Transylvania University to play baseball the next four years?
A: Once I visited Transy back in November, I knew that if I decided to play collegiate baseball, it would be there. I chose it because the coaches showed an extreme interest in me, and it was a good feeling to be wanted so much. They told me there was a chance I could contribute heavily my freshman year, and I was sold.
Q: What have you taken away from not having your senior season?
A: By not getting the chance to be part of the most special season in Trinity baseball's history, I learned I take two big things for granted. These two things are the daily relationships I develop with teammates and coaches, as well as how much it helps to have coaches and players by my side every day to push me to be better.
"
(Coach Arnold) preaches to us that family is always before baseball. He has certainly instilled compassion, empathy and a yearning to be better every day."
Q: What is your favorite Trinity baseball memory?
A: The most considerable memory I have from Trinity baseball isn't actually an in-game or practice moment. It is the lasting effects — the relationships, skills and fine-point detail-oriented mindset it gave me.
Q: Who is a role model in your baseball life?
A: My role model would be some of the coaches I have had in the last few years that allowed me to enjoy the game and enabled me to be the best player and person I could.
Q: Did you play any other sports at Trinity? If not, do you wish you did?
A: I didn't play any other sports at Trinity, but that's something I regret. Freshman year I was so worried about making a good impression for the baseball coaches, I decided not to play football or try out for basketball or soccer. I believe I would have made one of those teams.
Q: What is the most important part about being a pitcher?
A: The most important part is the mentality. You are all by yourself before every pitch, and it is your job to stay locked in and hit your spots. If you don't, you are letting your teammates down. You've got to have a steamroll, cutthroat, bulldog mentality.
Q: Do you enjoy not hitting or do you ever miss being a hitter?
A: If I was a bad pitcher, I would miss hitting, but I feel like not hitting has accelerated my growth process as a pitcher. I know I wasn't good enough at hitting, so it would be a colossal waste of time and would not help the team win.
Q: What about Trinity baseball has made you a better person?
A: (Head) Coach (Rick) Arnold has taught us since freshman year to be the best son, brother and friend that we can be. He preaches to us that family is always before baseball. He has certainly instilled compassion, empathy and a yearning to be better every day.