Reverbs from the ECHO Chamber — a Q & A with Cooper French '20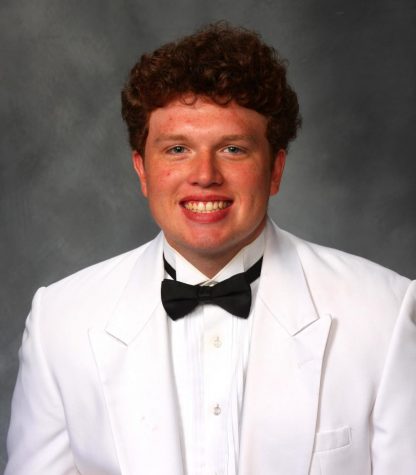 Another in a continuing series of Q & A interviews with Trinity spring sports student-athletes.
The baseball Rocks, led by six-year head coach Rick Arnold '86, included senior leader Cooper French, who signed a letter of intent with Hanover College. French spoke about his time playing baseball for Trinity.
Q: Why did you start playing baseball?
A: Originally, I chose baseball because it was the sport I was best at. In grade school, I also played basketball, football and volleyball; however, baseball was the sport my father played, and it was the sport I felt most connected with. I got into travel baseball as early as I could, and when I wasn't playing baseball, I was always looking forward to baseball season.
Q: When did you begin playing baseball and what position do you play?
A: I started all the way back in T-ball at Lyndon Recreation when I was three or four. I've been playing it since I could get my hands on a ball. Up until high school, I played third base and pitched, but now I'm only a pitcher.
Q: What is your favorite memory playing baseball at Trinity and outside of Trinity?
A: My favorite Trinity baseball memory was winning the regional championship against St. X my junior year. Outside of Trinity, my favorite travel baseball memory is throwing a perfect game while subbing for a game that Coach (Sean) Duggins asked me to. I was doing it originally just to get more innings but ended up striking out 10 and throwing a perfect game. 
"
I'll miss my teammates who made me better every day. I'll miss my coaches who have taught me so much about baseball and about life."
Q: Do you have a player you look up to?
A: As a leader, I look up to Derek Jeter. He's known as "The Captain" because of his attitude that he brought to the field every single day, and I aspire to have that attitude. From a pitching standpoint, I look up to Jacob deGrom. I watch his mechanics and pitch sequence, and learn anything I can from him.
Q: What is your favorite team in the MLB?
A: My favorite MLB team is the Cincinnati Reds. Truthfully, they're my favorite because they're the closest to Louisville, and they're the first team I was introduced to. I've just kind of stuck to the Reds.
Q: Who was your favorite coach?
A: I truthfully can't pick just one. Every coach in our program has helped me in many different ways. I've learned different aspects of the game that I never thought I'd learn. I'm incredibly thankful to all of them for giving me a chance to be a part of their program all four years.
Q: Congrats on signing with Hanover. What made you choose them?
A: My dad told me to "let my academics control my athletics." Hanover provides me with the opportunity to receive a high-level education, study what I'm interested in, and continue to play the game I love. I love the campus, and it's a great distance from home.
Q: Which teammates are you going to miss the most?
A: I definitely can't name any certain teammates. All of these guys are brothers to me. I have been playing baseball with Nicholas Pesce since I was eight, so it's going to be different not having him around. Nicholas and I have had many great experiences with baseball growing up, and it's sad to think that making those memories are over.
Q: Who gave Trinity the best competition during your years in the program?
A: There are a couple teams that have given Trinity some good competition throughout my years. Honestly, it's probably been St. X. I'm 6-2 against them in my time at Trinity, but they always play us close. McCracken County has also proven to be good competition to us. We didn't get our chance to take what was ours this year, but we know that this year was going to be special.
Q: What are you going to miss the most about Trinity baseball?
A: I'll definitely miss the chemistry we've built throughout these years. I'll miss my teammates who made me better every day. I'll miss my coaches who have taught me so much about baseball and about life.