Reverbs from the ECHO Chamber — a Q & A with Jackson Granger '20
Another in a continuing series of Q & A interviews with Trinity spring sports student-athletes.
Directed by 11-year head coach Chris Mather '86, the Rocks were headed toward attempting a state crown repeat before the season was cut short. Recent graduate Jackson Granger answered questions about his time playing for the Rocks.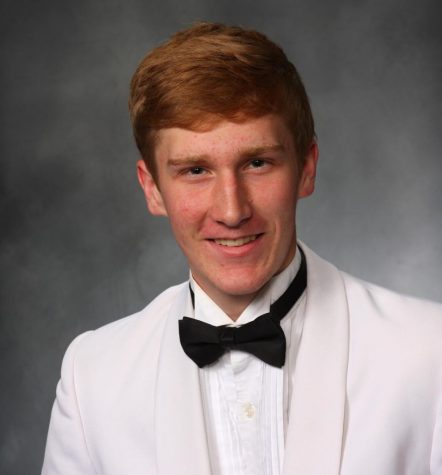 Q: How did you get into tennis and how long have you played?
A: I played some when I was younger, but actually started to play competitively my junior year. I got into tennis because my mom played, and she would take us to play. I played until I could beat her and then kept getting better.
Q: Freshman and sophomore years you were on the baseball team, and junior and senior years you were on the tennis team. Which was your favorite?
A: That's very difficult to answer. Both sports hold a special place in my heart. To be honest, it's like choosing your right arm or your left arm. There's no way for me to choose between the two because I am forever grateful for the time I have been able to play both sports, and for the people I have met and played with.
Q: After you finished playing baseball, what convinced you to play tennis?
A: A lot of my friends from the team just told me to give it a try. I knew I wanted to do something with my time, and tennis seemed like something I would be able to pick up and have fun with.
"
Those same friends, and the friends I made while playing tennis, were always there for me, and I'll always be there for them.
Q: What were tennis practices and matches like?
A: A typical practice started with warmups, then stretches; then we either did some drill or played games against each other. We finished with conditioning at the end of practice. For a typical match, we had a team meeting where we found out who's playing where, and we got a pep talk and got focused. Then we lined up to have our name called and shook hands with our opponents. After that we went to courts and started our matches.
Q: What it was like competing in and subsequently winning state?
A: While I didn't get to the state tournament, it was a lot of fun to see my teammates succeed. After we won state, we felt very relieved that our hard work had paid off.
Q: What did you learn from playing tennis at Trinity?
A: I have learned the importance of competing constantly. I think one thing that helped us win state was that there was constantly someone right behind you pushing you to be better. This just helped us push each other to greatness. The atmosphere of competition is very clear and is one reason for all of our success.
Q: What do find in tennis that is unique?
A: The brotherhood and acceptance Trinity tennis showed me is something unique. There are not many places where the best players will come and encourage you and support you. I actually tried out for the team because so many of my friends told me to just give it a try. Those same friends, and the friends I made while playing tennis, were always there for me, and I'll always be there for them.
Q: If someone considered joining the tennis team, what advice would you give them?
A: Just go for it. It's such a welcoming atmosphere, and the players, coaches and fans truly care for one another. It doesn't matter if you start varsity or are just hoping to make JV. Just give it a try, and I promise you won't be disappointed.
Q: Looking back, is there anything you wish you could have done differently?
A: I would probably go back to right before COVID-19 to be able to hit with my teammates and see my friends one more time before it all was over.
Q: What is the one thing that you have enjoyed the most playing tennis?
A: I have enjoyed spending time with my teammates and coaches the most. I miss the people who make Trinity such a special place.