Reverbs from the ECHO Chamber — a Q & A with Mr. CM
Kyle Vance '20, Staff Reporter
June 18, 2020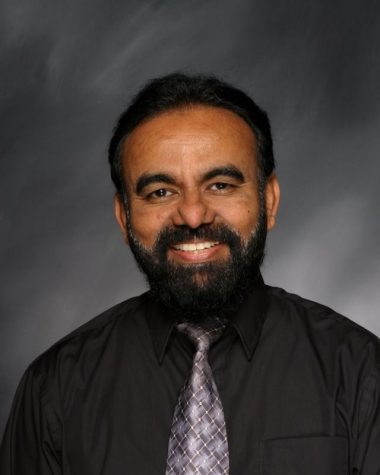 Another in a continuing series of Q & A interviews with Trinity faculty, staff and administrators.
Trinity's Mr. Joseph Chittissery Mathai, better known as Mr. CM, teaches physics and is a club moderator extraordinaire. He was born in India, and has lived in Kentucky since 2005.  Mr. CM talked about what led him to teach at Trinity.
Q: What can you tell us about your birthplace and education?
A: I was born in Secunderabad, India, the place where my dad was in the air force. We were there for three years. I came to America in 2005. I studied at Loyola University.
Q: Why teaching?
A: My grandfather was a teacher, my father was a teacher in the air force, so it was in the blood.
Q: Where else have you taught?
A: My first teaching job was way up in the north; it's right here (pointing to a place on Google Earth) in India. I taught here in a school called Little Flower School, a missionary school that belonged to a truck company. After teaching there for 10 years, I moved to the Middle East. I flew to this place called Abu Dhabi. I was teaching at international schools. They didn't have many physics teachers. I was there 11 years. 
"
From my childhood, whatever he started doing, I would just go and help him out, and I learned from there. That is how I got interested in particular things."
Q: What can you tell us about teaching and living in India and Abu Dhabi compared to America?
A: India was okay. My first 10 years were the hardest. I had no teaching experience, but because the school didn't have anybody to teach physics, that's why I went there. The students were like 18, and I was like 22 — 50 students in a class, boys and girls. It was a nervous moment in teaching, facing so many students who are smart. The challenge was there only for one or two years. After I got (past) that challenge, I was enjoying my job, and I (had) good results. Then I decided teaching was a good profession, although the payment was terribly low. It's generally on the lower side now, but it has come up.  I was getting $20 dollars a month USD. When I left, I was getting $85.
Abu Dhabi was good for conditions, and it was close to my home. Abu Dhabi was fine. Over here, we have the freedom, which was not so in Abu Dhabi. There I could only own one car — one car per person, that's it. Lot of limitations — religious freedom was also on the lower side.
(The good part was) money making and saving. I got two houses in India and one here, and that all came from Abu Dhabi. Over here, we do get money, but it goes quickly. It goes to taxes; over in Abu Dhabi, there is no tax. As a private tutor, I was getting twice the income I was getting in school, which was also a good. They have their own currency, called dirhams. I was making almost 7,000 dirhams for school, so 21,000 dirhams, without any taxes. They even paid for going to India and medical expenses are free.
Q: What languages do you speak?
A: Every state spoke a different language. I speak English, and I speak Malayalam, which is my mother tongue. The place I lived, Tamil Nadu, spoke Tamil, so I can speak and write Tamil; I can speak and write Malayalam and English.
When I went to north India, there they spoke Hindi-Urdu. I picked up those and a couple of other languages. Arabic, I'm not including. I can understand  Arabic, but I cannot just speak back. Urdu is spoken in Pakistan. I picked up Urdu because I went to the Middle East, and all the cab drivers were Pakistani, so they spoke in Urdu, which is slightly close to Hindi.
Q: You are the moderator for five activities — Ping Pong, cricket, electronics, ACE, and Tim's Flying Club. If you had not become a teacher, what would you have liked to do?
A: I wanted to be a pilot, but it was so expensive in India. My next interest was in engineering.
Q: Who was your biggest influence as a kid?
A: My dad. He was more technically orientated; he was a do-it-yourselfer. Even now at 92, he is still doing it. When I go home go to my dad, we still do things, but because he is physically not able to do everything, he is saying, "I want this, I want this, I want this, let's do it." From my childhood, whatever he started doing, I would just go and help him out, and I learned from there. That is how I got interested in particular things. My brothers were totally unlike me; they never turned that side and so they don't benefit. Now, if there is something wrong with the lights, they call somebody else because I am not next to them. I am thankful to my dad because I could work with him.