Reverbs from the ECHO Chamber — a Q & A with Mr. Trevor Timmerberg
RiLee Waggoner '20, Staff Reporter
June 22, 2020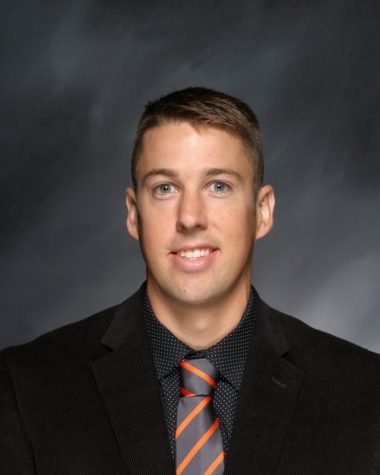 Another in a continuing series of Q & A interviews with Trinity faculty, staff and administrators.
A famous commercial claims someone is "the most interesting man in the world." That might also apply to Trinity English teacher Mr. Trevor Timmerberg. Mr. Timmerberg has served as English Department co-chair, assistant lacrosse coach, and an officer in the Army. Recently, Mr. Timmerberg accepted a director of students position in the Student Affairs Office, replacing Mr. Joe Henning, who moved into the curriculum/faculty development role held by Sr. Kathy Cash, Ph.D., who is taking a sabbatical.
Q: How do you find the time to take on the many roles you have?  
A: One of the things we say in the military is "prioritize and execute." I found that the more things I have going on, the easier it is to accomplish the task because you don't have free time. When you don't have free time, you have to prioritize everything. You just set down what you are going to do, and you just keep on rolling through. 
"
I wanted to help impact the next generation of leaders."
Q: What was your main reason for joining the military?
A: I always wanted to serve. I probably would have gone into an ROTC program if I hadn't played sports in college. Instead, I started teaching right away, and then eventually I decided to join. My whole family has a history of service. My grandfather was in the military and served at a very high level. Both of his sons were in the military. My dad's older brother went to West Point and then served as an artillery officer. He then taught at West Point for a while after that. His younger brother was a pilot in the Navy, and my dad served for almost 30 years as an FBI agent. So service is a part of the tradition in my family, and I just felt like I had the privilege and the honor to do so myself.
Q: Where did you do your military training?
A: I enlisted like everyone else enlists for the Army. You get slotted for basic training time, so you do your 10 weeks at basic training. I then had an 18-month officer candidate school, which is the process that takes you from enlisted to becoming an officer. That means you can be a leader among soldiers, but with privileges come responsibilities. I then did an 18-month training cycle in school and was commissioned as a United States Army officer in August 2017.   I spent six months out of Fort Benning, Ga., and then from there I took over as a platoon leader in Madison, Ind., with my unit there. That's kind of the nitty gritty of what the process looks like. It is quite long. I've been in the Army for just over three years, and I've only been out like my normal line unit for less than a full year of that. It's a lot of training.
Q: So with the military, where have you traveled?
A: I've gone to Fort Ripley, Minn., I've gone to Georgia, and I've gone to Joint Base Lewis-McChord in Washington state. We were kind of at the base of Mount Rainier, which was super beautiful but a brutal training cycle. Sometimes in the mornings when the sun was coming over the mountain, Mount Rainier, in the backdrop, it's pretty neat. They like to call (Fort Benning) the motherlands of army training. I have been to a lot of places within Indiana because I am in the Indiana National Guard.
Q: Why did you choose teaching at Trinity rather than just being full-time military?
A: I feel like they are two sides of the same coin. My purpose is to develop other people's character, and that's where that aligns perfectly with the mission here at Trinity. I do that through teaching. I do that through coaching and mentorship with students, and I also do that with my soldiers that work with me and are part of our primary unit. I want to be a man that's looked at as having a foundation that is rooted in his faith and his character, and he makes everyone else around him better.
Q: Why did you decide to become a teacher?
A: I wanted to be a father-figure mentor. There's a lot of people in the public-school system that need that kind of figure or that kind of role model. All the teachers in JCPS are great people. They are doing that mission, but that is what drew me into teaching originally. I wanted to help impact the next generation of leaders.
We are there to plant the seeds, and so it can be a selfless job, and the people that are continually doing that are very saintly in my eyes. I'm helping educate, inform, inspire and build up the next future VP of YUM, the next CEO of Humana, the next congressman. It's a different challenge because I came in here with different experiences that helped me with certain types of students with certain needs. Now I'm doing just as important a job, but it's pushing me in a different direction to be a better leader that empowers people to do more.
Q: What college did you attend to get your teaching certification?
A: I was at Bellarmine for my undergrad because I played lacrosse there. I had a red-shirt year of availability because of medical reasons. With a medical year to play, I then started my master's in teaching. I finished that, and right now I'm working on getting my administrator license. I'm getting another master's degree in educational leadership.
Q: So what is like to play lacrosse at one of the highest levels?
A: Best experiences ever. It was hard to get there, and it was hard to stay there. It's a constant challenge, and when you have performance metrics that can show how you're doing, you always feel like you're backed up against the wall and on the chopping block. It also can bring out the very best in you and the people around you. I got to play against the very best people in the world at our sport, and that was super cool. I think the biggest thing I took away from that is that the skills you learn to get to that level can be applied to anything.
I feel like the passion God puts on my heart right now is to see others, the next generation, develop into their roles. That's exciting; that's an impact that's worth investing in, as opposed to just investing in myself.