Reverbs from the ECHO Chamber — a Q & A with Ms. Amy Zuccaro
Zachary Crumes '20, Staff Reporter
August 18, 2020
Another in a continuing series of Q & A interviews with Trinity faculty, staff and administrators.
A National Board Certified English teacher. An award-winning speech and debate coach. A powerful participant in Senior Retreats. For Ms. Amy Zuccaro, recently named co-chair of the English Department, giving to the Trinity community is a way of life. She answered some questions about her passion for teaching and coaching speech and debate.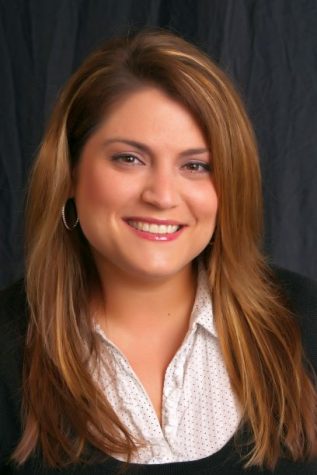 Q: What is your educational background?
A: I attended Bellarmine. I have a BA in English and a BA in history.  I also minored in theatre and have a master of arts in teaching.
Q: How long have you been teaching and how long at Trinity?
A: I have been teaching for 16 years and this is my 11th at Trinity (starting her 12th).
Q: How long have you been involved with speech and debate? 
A: I've been involved with speech and debate since I was 12. After high school, I volunteered with local programs as a judge, which continued until I started the speech team at Oldham County High School.  This is my 15th year as a head coach (starting her 16th).
Q: Where are you from?
A: I was born and raised in Nashville, Tenn.
Q: What is speech and debate all about?
A: The simplest answer is speech and debate is an activity that engages students in public speaking. I would argue that it gives students, both middle school and high school, the skills and platform to express themselves.
Q: What brought about your passion for speech and debate?
A: I have been a performer for most of my life. My first acting performance was when I was five years old.  I was a star – literally – in the Christmas pageant at my church, where I sang a duet with the North Star.  I did not begin competing until sixth grade, where I focused mostly on acting events like duet acting, which is a 10-minute interpretation of a scene with a partner.
When I started high school, I took the forensics (speech) class as my fine arts requirement.  Once we gave our first speech, my coach told me I would be competing in original oratory, where I would write my own speech, memorize it, and perform it at tournaments.  She liked my speaking quality and thought I was a strong writer.
Q: What kind of useful skills do you think most gain from speech and debate?
A: The beautiful thing about speech and debate is that every student who competes, regardless of success, learns valuable life skills. They are comfortable speaking in front of audiences, they learn critical thinking skills, they write, they edit and present their own material, and they evaluate material and synthesize it for their own uses.
"
There is no better preparation for life after high school than an activity where you learn to speak your mind and advocate for things about which you feel passionate."
In addition, speech and debate competition teaches some tough life lessons. At a given tournament, there could be upwards of 70 people in one event.  The top six are the only ones who advance to finals.  Most of the students who compete might never have that success, but the underlying value is still there.  Students learn to face disappointment positively. They are able to cope with not being the best at all times, and I think that's one of the best things about speech and debate.
None of us is perfect, and there is a danger in expecting perfection.  The students I have been fortunate enough to coach are self-motivated because of this.  The set realistic expectations for themselves and work hard to achieve those goals.  My reminders to my team fall into two questions.  Did you do the best that you can do?  Are you happy with how you performed today? They can answer honestly and objectively, which is a rare perspective from teenagers.
Q: What is the importance of learning public-speaking skills at a young age?
A: The number one fear for American adults is public speaking. Exposure to public speaking at a young age normalizes it and takes away the fear.   I do not mean to imply that one would never be nervous.  It is actually quite the contrary, and nerves show that you care about what you are doing.  The difference is that people who have experience in public speaking are better able to channel that nervousness, and they are usually quite adept at thinking on their feet.
Q: What kind of competitions and events does Trinity speech and debate participate in?
A: This mostly depends on the league. In the Kentucky High School Speech League, there are 14 speech events and four debate events.  The speech events are broadcasting, declamation, dramatic interpretation, duo interpretation, extemporaneous speaking, humorous interpretation, impromptu speaking, informative speaking, improvisational duo, original oratory,  poetry interpretation, program of oral interpretation, prose interpretation, and storytelling.
The debate events are Lincoln-Douglas (1 v. 1), public forum (2 v. 2 – social issues), policy (2 v. 2 – policy issues), and congressional debate.  We compete in the National Catholic Forensic League, which has declamation, duo, oratory, dramatic performance, extemp., oral interpretation, and all the debate events. We also compete in the National Speech and Debate Association, which has all the debate events, program of oral interpretation, and all the NCFL events except declamation.
Q: Who would you say stepped up as a leader for the speech and debate team in 2019-20?
A: Without a doubt, my team captains have been instrumental. Gus Boyer and Walker Evans have been great leaders.
Q: How many awards has our speech and debate team secured this year (2019-20)?
A: Individual awards are too many too count. Most of  the guys will place at tournaments.   I think the most significant award was placing third in overall team sweepstakes at KHSSL debate this year.   This is the best finish I've ever had as a coach.  It is extremely impressive because we are one of the smallest teams.
The two teams who placed ahead of us usually maximize their slate, which means they had 28 entries.  We had six entries.  Our six entries were so strong that they earned enough sweepstakes points.   Primarily, our congress students Matthew Chou, Michael Chou and Walker Evans led the way as each advanced to finals, and Walker ended up placing third.
Q: Do Trinity graduates often go on to participate in speech and debate in college?
A: Typically, they don't. There aren't as many collegiate programs, and our students typically don't go to the schools where they are available. I think most of them miss it greatly, which is why I've always had great luck in alums coming back to work with the team or help with judging.
Q: How would you describe your coaching style?
A: I'm a pretty no-nonsense kind of coach. I have high expectations, but they live up to them.  I am also really goofy, so we spend a lot of time joking around.  I think the balance is important.
Q: What is your favorite aspect of speech and debate?
A: This is a tough question because there is so much to love. I think the kids who really invest in speech and debate form bonds that last a lifetime, and not just with their schools.   They cheer for one another and support one another, even if they compete against one another.  They celebrate victories and console losses.  It's a special activity. Some of the best friends I have are people I met my freshman year of high school on the team.
Q: What would tell someone thinking of joining the team?
A: There is no better preparation for life after high school than an activity where you learn to speak your mind and advocate for things about which you feel passionate.