Reverbs from the ECHO Chamber — a Q & A with Mr. James Torra
Sam Repp, Staff Reporter
September 1, 2020
Another in a continuing series of Q & A interviews with Trinity faculty, staff and administrators.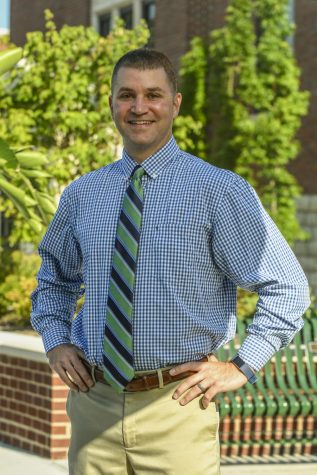 Trinity Vice President for School Advancement and Director of Admissions Mr. James Torra has taught in the classroom and coached on the basketball court, named both Coach of the Year and Teacher of the Year.  Coming to Trinity in 2004 from New Hampshire, Torra is one of the Rocks' strongest advocates.  He answered a few questions about his career at Trinity.
Q: Why is Trinity special to you?
A: Every day I'm excited to come to work here. Trinity has let me grow and take on new opportunities and new challenges. I get to work with great fellow teachers, administrators and coaches — and a great student body.
Q: What is your main job as Director of Admissions?
A: I oversee the admissions office. We work with prospective students and new families who come to Trinity every year. That encompasses everything from shadow days to parent events, from Open House to social media. We are blessed with a really strong team and teachers who help me do that on a daily basis.
Q: What inspires you to do this work? 
A:  I realized that I wanted to be a teacher and a coach . It's been a great calling for me, and I really enjoy the challenges.
Q: Who have been your mentors?
A: My college and high school coaches, along with others coaches I met along the way.  I also have a great friend from back home that I rely on heavily.
Q: What are the most interesting things that happen in a day of work?
A: You always you have to be on your toes. Every day is a little bit different. Many events are on the calendar, but there are times when things are not on the calendar. We help families when they ask to tour the campus and want to know about Trinity.
Q: What do you do outside of Trinity?
A: I spend a lot of time with family — with my wife and two kids. My daughter is seven and my son is five, so that keeps me busy. I enjoy spending time with them at home and doing things in the community so that definitely keeps me busy outside Trinity.
Q: What are your professional goals? 
A: Making sure we have a solid freshman class each year. To continue the excellence a good solid number of incoming students each year.
Q: A basketball question: After graduating the entire starting lineup, what did you think of this season?  
A: Andrew Brian, being the lone senior, really did a good job of leading by example. Junior Ethan Hodge and others stepped up and helped, which will propel them to become great senior leaders.