With Six Top-Three Finishes So Far, Golf Rocks Gearing Toward Regional and State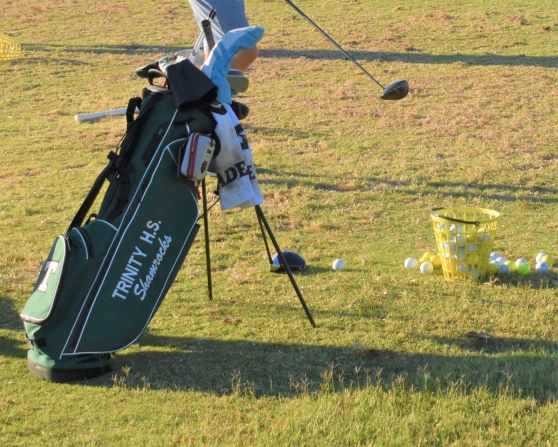 The Trinity  golf Rocks were given the go-ahead to begin competition in late July, and they have made the most of it, notching four firsts, a second, and a third in their first 10 matches. 
Under second-year head coach James Chaney, the Rocks finished first in the Bullitt East Charger Open, the Battle at the Bridge, the Scott County Cardinals Invitational, and the South Oldham Dragon Invitational. They opened the season with a second in the Lafayette 5 Star General Invitational, followed by a third in the Franklin County Flyer Classic.
Quoted on the Trinty Athletics web page, Chaney said before the season, "We are very eager for the 2020 golf season as we come off our best season in over 16 years. Even though we had seven seniors graduate from the 2019 roster, we return with a very deep, talented and experienced group of golfers who are eager for their opportunities to shine. We will have a big chip on our shoulder after falling short of a state championship by two strokes in 2019. We plan to compete at a high lever with aspirations of contending for another state championship in 2020."
Senior Derek Limberg said, "All of our guys are really looking forward to this fall. Everyone's been working hard in the offseason, and our team chemistry is as strong as its ever been. I'm excited to begin our tournament season and to keep making memories with my Trinity brothers."
The Rocks are preparing for the region tournament on Sept. 28 and the state tournament Oct. 6-7.
2020 Golf Team:  Harry Abshire, Peyton Bonny, Ian Coots, Mason Donnell, George Katchak, Derek Limberg, Shane Limberg, Michael Long, Dylan McGrath, Matt McGuire, Charlie Morgan, Andreas Olsen, Jack Talbott, Drew Tinsley, Sam Travelstead, Davis Wilmes, Zach Wilson, Ben Wulkopf