Kneeler Added to Mary's Courtyard
A year after the statue of Mary was blessed in Mary's Courtyard on Trinity's campus, a kneeler was added. Mr. Brian Ashby '77, his son Mr. Jack Ashby '12, and Mr. Paul Resch '76 helped with the installation of the kneeler, acquired by Trinity teacher Mrs. Holly McGuire. 
Trinity President Dr. Rob Mullen said, "Devotion to Mary, the mother of Jesus, has long been part of Catholic Church teaching. Marian devotion is deep and has a rich theology."
McGuire provided some of the history behind the kneeler, installed in late July:  "The kneeler was donated by Tim Tomes, the Archdiocese of Louisville Archivist, this summer. The kneeler was originally installed at Saint Vincent De Paul Catholic Church in downtown Louisville.
"The kneeler has been in storage since 1996 and needed to be restored. To my surprise, I actually found old candle wax in the structure, because the kneeler was originally placed with a candle stand in front of it for prayer. The rich patina that you see now is the natural color change of copper after being exposed to the elements. Over time, the patina develops from browns to dark browns, then blues and finally greens. Blue patina can be found on the kneeler.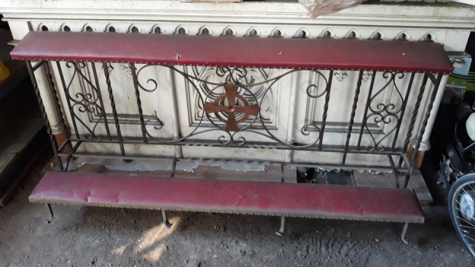 "The kneeler had to be restored for exterior use, because the kneeler was originally only intended for interior use. Marine upholstery foam and vinyl was used to create the padding and was conditioned against UVA rays. The patina was sealed with two coats of lacquer. At his home, Brian Ashby drilled through the steel to create holes for securing the kneeler into the concrete. Last Saturday, Brian and Jack drilled holes into the concrete, secured the kneeler and added the new padding to the kneeler.
"This was a very generous donation from the Archives office, so if you have the time, please send Tim Tomes a thank you email. [email protected] Also, if you cross paths with Brian or Jack, please let them know how much their talents are appreciated."