Golfers Win State Crown — First Since 2003
Not since their head coach, James Chaney '07, was a freshman Rocks golfer had Trinity won the KHSAA State Golf Championship.  That changed yesterday when they won the title in Bowling Green by 4 strokes over Taylor County, the two-time defending state champions.  The Rocks were runner-up last year.
Trinity scored a 614, followed by Taylor County (618) and third-place finisher Marshall County (622), whose Jay Nimmo won the individual title.
The Rocks honored "late co-worker, friend, teacher and coach Steven Tompkins '81, wearing the "ST" Shamrock decal on their golf caps," according to Athletics Director Rob Saxton.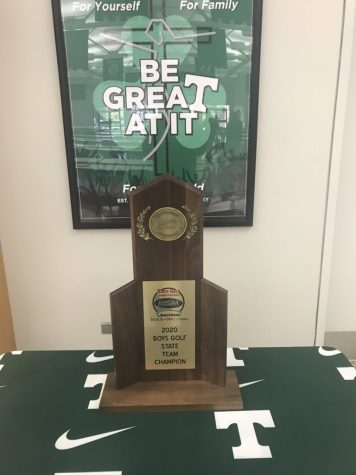 The state team consisted of seniors Derek Limberg (176, 86th) and Charlie Morgan (156, 32nd), junior Peyton Bonny (155, 29th), and sophomores Michael Long (150, 13th) and Ben Wulkopf (153, 21st).
The team will be recognized at halftime of tomorrow night's varsity football game.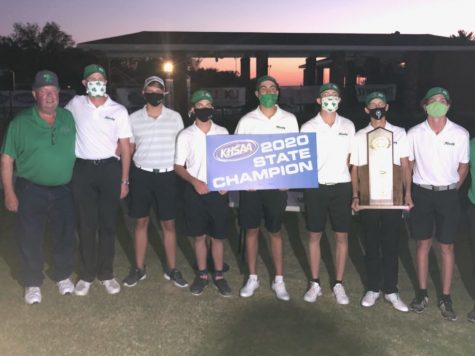 –info from Jason Frakes of The C-J and THS Athletics Dept.