For Chaplain Fr. Dave Zettel, 'Trinity Means the World'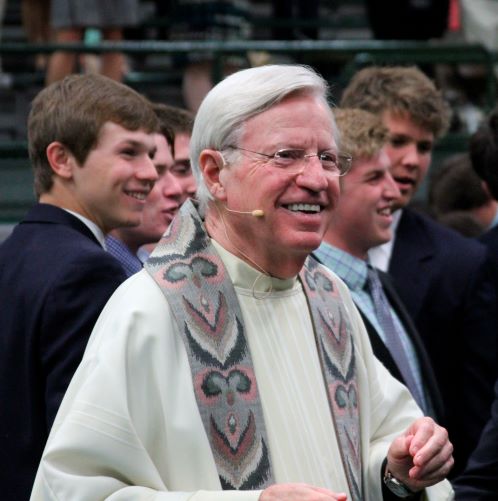 For nearly seven decades, Trinity High School has been an integral part of Chaplain Fr. Dave Zettel's life. As a student, alumnus, priest, teacher, counselor, board member and spiritual leader, Fr. Zettel has devoted his life to the Green and White. Fr. Zettel answered a few questions about the place that shaped him — and he has helped shape.
Q: How long have you been involved with Trinity High School? Other than chaplain, what roles have you had at Trinity? 
A: Well, to start with I graduated from Trinity in 1958, in the second graduating class.  I returned after I was ordained a priest in the fall of 1966 and have been here ever since.  I have taught social studies, theology, and German language.  For many years I was college counselor for seniors.  I worked in campus ministry with many other faculty members for many years as well.  I retired in 2011 but remain living in Flaget Hall on campus and am still Trinity Chaplain, helping out with campus ministry (mostly with worship, Trinity School Board, etc.).
Q: Why did you decide to become a priest? Who inspired you? 
A: There were many priests on our faculty when I was a student here.  One of them, Fr. John Grenough, was my main inspiration.  We worked together for two years in English and journalism classes. 
"
Trinity High School means the world to me.  I have (in a sense) always been here.  I believe deeply in our work, in God's ongoing and very real presence among us, in the Holy Spirit at work in our halls every day.
— Trinity Chaplain Fr. Dave Zettel
Q: What career path would you have considered if you had not become a priest?
A: Other than priesthood I guess I might have become a banker.  My Dad and brother were both bankers.  I worked six summers in a local investment firm here in Louisville while I was in school.
Q: What is your favorite memory from your time at Trinity? 
A: My favorite part of working here has been the association I have had with so many faculty colleagues.  I loved the years I worked on the ECHO newspaper and Shamrock yearbook as a student here.
Q: What are the ways in which Trinity has changed since the 1950s? 
A: Trinity has changed with the times.  We have become increasingly fully professional, hired increasingly better teachers, become more fully visionary in our planning, have taken the lead in innovation in many areas, have become a leader  in the local and statewide community in Catholic secondary education, and have used the last year of challenges to grow and become better as well.
Q: In what ways has Trinity stayed the same? 
A: From the very beginning Trinity has been hugely resourceful, using what we have and making the most of things.  That spirit of resourcefulness has remained a vital part of our existence to this day……and will remain so into the future, as I see it.
Q: What are you most excited about concerning Trinity's future? 
A: Presently, what I see is that we will use what we have learned during this pandemic to better ourselves in the future.  Also, we have inspired leadership with Drs. Mullen and Zoeller at the helm.  They are strong advocates for living up to our Strategic Plan for the future.
Q: What advice would you give to students who are thinking about becoming a member of the clergy? 
A: I would ask anyone who might consider priesthood to  (1) pray about it, asking God to give him guidance in his thoughts and (2) talk with someone in the Vocation Office of the Archdiocese of Louisville — they would be in a position to give the best advice and help out in discerning one's future (I could help to arrange that, if need be).
Q: You were part of the foundation of the Senior Retreat Program. Why is that program so important? 
A: Senior Retreat for many years has dramatically and meaningfully helped us carry out our mission in Catholic Education to form men of faith and character.  Large numbers of our alumni attribute their faith life after high school as being shaped by their Senior Retreat experience.
Q: What does Trinity mean to you? 
A: Trinity High School means the world to me.  I have (in a sense) always been here.  I believe deeply in our work, in God's ongoing and very real presence among us, in the Holy Spirit at work in our halls every day.