Two Decades of Leadership at Trinity High School
Prior to being named the school's second president in October 2000, there were few positions of leadership Dr. Rob Mullen '77 had not held. His willingness to take on a wide variety of roles, extensive educational background and love of his alma mater served him well on the way to becoming the school's chief executive officer and President of the school's Foundation.
Dr. Mullen discussed his path to becoming the President of Trinity High School.
Q: What did you aspire to become when you graduated from THS? Did you ever picture yourself wanting to be the President of your alma mater back then?
A: I graduated in 1977 with uncertain plans other than to make some money to pay for college. I worked full-time for two years, except for a short stint as youth minister at St. Raphael. I enrolled at Bellarmine after I decided teaching was my aspiration. The position of President did not exist until 1994. Being in school administration was not in my thinking at that time.
Q: What positions at Trinity did you hold before becoming President?
A: I have served as a full-time teacher and assistant soccer coach, activity moderator, campus minister, director of students (twice), development director (twice), assistant to the president, and I ran a consulting business that was part of the school.
Q: What influenced you to become the President of Trinity High School 20 years ago?
A: The vacancy occurred when my predecessor, Peter Flaig, retired. I thought I had a variety of school experiences to be a good candidate for the position. I have a Master's degree in Religious Studies, a Specialist's degree which brings a principal's certificate, and a Doctorate in Education. My doctoral dissertation was the first-ever national study of the president-principal model of administration in Catholic high schools. I have had a passion for Trinity since I was 10 years old and was a ball boy for my brother's THS soccer team. Experience, credentials and passion seemed like a good mix of attributes, so I applied.
Q: When did you first realize the importance of being President at Trinity?
A: That was long before I was ever offered the opportunity to be President. Schools moved to the president-principal model because of the growing complexity of running a large Catholic high school. I saw this need during my various positions before I was selected to be president.
Q: What has been your favorite part of leading this school and why?

"

I love our commitment to Monsignor Steinhauser's vision to be a place where we throw open our doors as wide as we can to students from many different backgrounds, be it academically, religiously, racially, ethnically, financially or geographically.

— Trinity President Dr. Rob Mullen
A: The most satisfying aspect are those times when we identified a need, worked to address that need and then saw how what was instituted benefited students. It takes many smart people committed to the school's mission to have that success. Being one part of many in that process is energizing.  One example is the long process it took to implement the block daily class schedule. Why we made that decision and how it was implemented were great examples of teamwork and keeping students as primary.
Q: Tell us about someone whom you looked to as a mentor and why.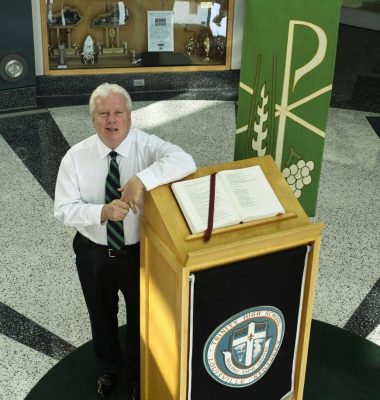 A: As an administrator, I learned a tremendous amount from Peter Flaig. He gave me great opportunities to grow and picked me up when I failed. Along that journey, he taught me good lessons about compassion and the Trinity way of doing things. Long-time board member Charlie Leis has taught me many things about leadership. Peter and Charlie have been significant in my development.
Q: Describe the coolest, most interesting opportunity you have been given as the President?
A: Handing out diplomas. I get to represent my colleagues and all those who have a hand in a graduate's journey. I know I am handing him the keys to his future. It is an honor to do so.
Q: Tradition is the backbone of this school. Of the many traditions for students and faculty on campus, what is your favorite tradition and why?
A: There are many things we do that I think add to our specialness, e.g. singing the Alma Mater, wearing ties, attending Mass, etc. What we do that is the most significant tradition, begun by Monsignor Steinhauser, is our welcoming the broadest range of learners possible, regardless their academic strengths or challenges, and saying, "Come be successful here."
Q: To what do you attribute Trinity's current level of success?
A: We have a rigorous visioning and planning process that is key, dedicated teachers and staff members, trusting parents, spirited students and generous volunteers and donors. Add all those ingredients together and success can come. And one other thing, we are never satisfied. We know we can always get better.
Q: How would you describe your experience at Trinity — as a student, teacher and administrator?
A: Along with my parents and family (siblings, wife, children, grandchildren) Trinity has been the most formative element of my life. Not everybody gets to say that about their place of work.
Q: What do you love about Trinity?
A: I love our commitment to Monsignor Steinhauser's vision to be a place where we throw open our doors as wide as we can to students from many different backgrounds, be it academically, religiously, racially, ethnically, financially or geographically.