Trinity Principal Helps Rocks Reach for GreaTness
This year's theme, "Be GreaT at It," sums up the passion exhibited by Trinity's principal, Dr. Dan Zoeller.  A Trinity English teacher for 14 years before becoming principal in 2004, Dr. Zoeller strives to  focus on each day's potential while keeping the big picture in mind. Sharing innovative ideas, among them the Trinity House system, and a profound  interest literature, as well as films, travel and music, Dr. Zoeller strives to keep Trinity current and connected — locally as well as internationally.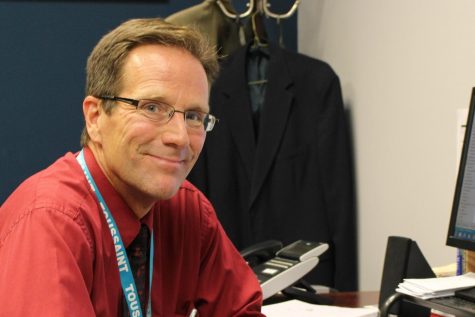 He discussed his life as an educator, his faith foundation, and learning from the pandemic.
Q: What made you want to become a teacher?
A: Well . . . I finished undergraduate school with a major in English and minor in journalism. I was heading to law school when my mother talked me out of it. She said I'd be happier if I didn't have to compromise my principles on a daily basis. Of course, there are lawyers who don't compromise their principles every day, but it made me rethink things enough that I enrolled in graduate school for my Master's in Teaching. I liked the classes. When I finally got to student teach, I really got the bug. I loved talking literature and writing, and I loved even more having some influence for good with young people.
Q: Why did you want to become a principal?
A: This began with our previous principal, Dave Winkler. He encouraged me to take a few classes in administration. Before that, I felt I'd happily retire a teacher. When the position for principal opened at Trinity, I felt called to apply for it. It felt like teaching on another level, and it kept me at a place where I found the most inspiring and passionate people I'd ever met. Being principal of Trinity High School has been one of the greatest privileges of my life.
Q: What sparked your passion for reading?
A: I was always read to as a child. My mother would take me and my brothers and sisters to the library once a week and turn us loose. Free to explore the stacks, I never failed to find an armful of books to quench my thirst for learning something new. For me, the more I learned, the more I wanted to know. And I love getting lost in a good book. For me, it's the greatest form of entertainment there is.
"
More than anything else, my faith gives me perspective and brings me joy. Thank God my job encourages and nurtures that faith.
— Trinity Principal Dr. Dan Zoeller
Q: You observed teaching methods in Japan. What did you learn from that experience? 
A: I learned you can tell a passionate teacher beyond language. I observed several classes there, and it was obvious which teachers were most effective. You could see it in their body language, enthusiastic delivery, and in the eyes of their students. Moreover, travel is a passion of mine. I've been to Japan, China, and most of Europe. Traveling has helped me appreciate the common thread of humanity that runs through all cultures. I love seeing new places and learning about different ways of living.
Q: What has been the hardest problem as principal during this pandemic? What positives have come out of this past year?
A: As (Trinity President) Dr. Mullen likes to say, "You can't outthink a virus." Every day brings new challenges. There are myriad opinions and directions about what's safe. We really miss our students. Above all else, the toughest challenge has been finding an effective balance for those who are able to come to school and those at home. On the positive side, I think we're all going to appreciate "the little things" more once the pandemic is over. I can't tell you how many teachers have told me they really miss having a full classroom. We also miss the traditional events, the Shamrock Awards luncheon, Hall of Fame dinner, school Masses, a full student section, etc.
Q: What lessons have you learned during the pandemic?
A: I've learned to truly appreciate how important personal connections are. I couldn't have made it through this pandemic without my "bubble," family and a couple of friends who have sustained me through occasional dinners, walks through my neighborhood, weekend board games, and shared conversations and venting. I've learned how important it is for students and teachers to actually see one another in person for instruction, how important body language and eye contact are, and how resourceful people can be.
Q: What have been high points throughout your career as principal?
A: To be honest, I have high points nearly every week when I see teachers and teams winning awards, our teams and clubs taking championships, and our teachers and students doing amazing things in classrooms every day. Sometimes I listen and watch TTV amazed at everything that goes on here on a daily basis. Being named an honor alum was a high point for me. I'm also proud of the international connections and exchanges with schools in Spain, Argentina and Ireland.
Q: Faith is a big part of this school. How has your faith helped you do your job?
A: I don't think I'd still be at Trinity without the faith component. As a believer that faith takes work, I'm grateful to be in a place that allows me to do faith and service work each day. I worked many senior retreats as a teacher and principal. In addition to watching seniors grow from these, the experiences have been formative and sustaining for me. Surrounded by faith-filled colleagues each day helps support me during any long days and dark moments. More than anything else, my faith gives me perspective and brings me joy. Thank God my job encourages and nurtures that faith.
Q: Online learning has had its benefits and negatives; knowing this, how will learning methodology change in the future?
A: I've been asking our teachers the same thing over the past few weeks. Though we long to be back together in classrooms, I do see more instruction and assessments moving online. The pandemic has accelerated the push to a paperless environment. Overall, I think that's a positive.
Q: What words of encouragement would you give your students as they go through this tough time?
A: Focus on the moments and try not to get overwhelmed by all you're missing. Each day brings new gifts if only you open your eyes for them. Finally, time heals. This pandemic will end. I've lived long enough to know that hard times pass. It's really difficult during dark and lonely times to understand good days lie ahead. I think that's especially tough to understand when you're young. That's why you have to work each day to find highlights instead of allowing the darkness to win.
The quote from Martin Luther King, Jr. says it best: "Darkness cannot drive out darkness; only light can do that. Hate cannot drive out hate; only love can do that." The people who have focused on love this past year are the ones thriving and staying mentally strong. Those who have let bitterness and regret rule the day continue to struggle. It may sound like a cliché, but if you look every day for things to be grateful for, you'll find yourself happier and stronger. If nothing else, start by praying each night before you fall asleep. Perhaps the greatest prayers of all is "Thank you."