'A Positive Learning Environment' Born of Passion and Commitment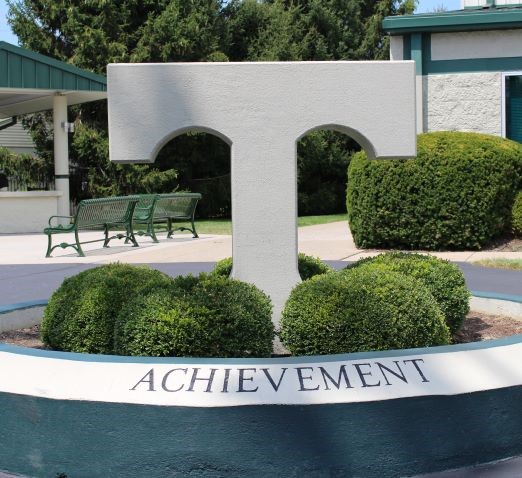 Sam Repp, Staff Reporter
February 21, 2021
In his eighth year at Trinity and currently serving as Director of Students for juniors and seniors, Mr. Randy Perkins draws on tremendous experience as a teacher and a lawyer.  Mr. Perkins has taught for 13 years and before that practiced law for 15 years. He combines this background with a sincere desire to help create the best possible learning experience for every student at Trinity. 
Q: What motivated you to become a teacher?
A: I knew I wanted to be a teacher before I started college. Once I got into college, I got more interested in making money, so I moved into business and eventually went to law school. My lesson learned was that chasing money is not a smart move, especially if it takes you into fields and places you don't belong!
Q: Why did you want to become a Director of Students?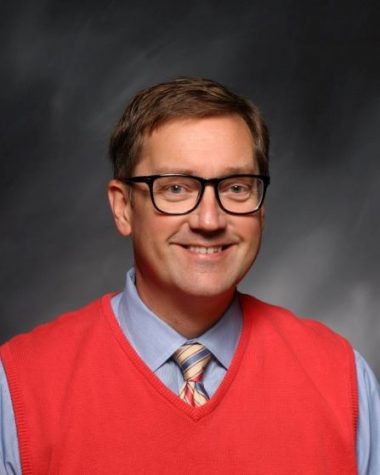 A: I thought I had something to offer and maybe a slightly different approach to what had always been considered the "disciplinarian's" role. One of the gifts I bring to this job is the ability to walk with guys and their families through rough patches and empathize with their situations. Usually, if something major happens at school, it's indicative that something's off track beyond school behavior. Also, with most young people today, the idea of conformity through fear or punishment is a non-starter, and guys who end up in jug repeatedly typically aren't responsive to that kind of consequence. It builds walls between students and adults, and it isn't productive to achieve the end of a positive school culture. I operate from the perspective that relationships are central to creating a positive learning environment.
Q: What did you enjoy about working with the speech team?

"

When I observed a retreat for the first time, it was life-changing, and that's when I knew this is the place I want to work until I retire."
A: Of course, the students and Ms. Z (Zuccaro)! I've never worked in any setting with anyone more dedicated than Ms. Z. When students you coached 10-plus years ago still show up to visit regularly, that's impressive. Also, the dedication of the competitors is phenomenal. Speech and debate are intellectual endeavors, and they both require non-stop learning and critical thinking. It's just a top-to-bottom well-run program that builds lifelong skills in students and coaches. And winning always makes it more fun, and Ms. Z always has winners!
Q: What is rewarding about being a teacher? 
A: Watching boys grow into young men and possibly playing some small, hopefully positive, role in their development.
Q: What does Trinity's mission "to form men of faith and men of character" mean to you?
A: It means that we are more than a school that prepares students for college or work. Primary to our mission are teaching and living out our Christian faith and values. More important than 36 ACT scores or Ivy League acceptance letters or college scholarship money is sharing our faith in God and our responsibility to reach out to those on the margins of society and do all we can to ensure they are allowed the same opportunities for success that we enjoy.
Q: What has been the toughest part of the COVID year? 
A: This has been the most difficult year in my teaching career. Online school is not my strong suit. It's tough knowing we have quite a few guys truly struggling with the mental, emotional, and academic impacts of the pandemic and not being able to "put eyes on them" and guide them through what should be a positive school experience.
Q: What positives do you take away from the past year?
A: There is no one in Louisville and probably well beyond doing virtual/hybrid learning as well as we do it. We have the most impressive faculty, students, and families I have ever encountered! Students by far have plowed through this mess of a year and gotten done what has to be done. Teachers have worked harder than ever adjusting to a very unnatural teaching situation, and the results are nothing short of amazing. Every day I hear conversations between students and teachers discussing unbelievably creative and flexible approaches to teaching and learning new content. Whether it's Ms. Howard and Ms. Waggoner creating at-home physics lab opportunities for students, Mr. Chancellor and Mr. Rand offering endless opportunities for math students to evidence mastery of required skills, or Mr. Serrano and Mr. Bowles holding beyond-schedule AP class meetings, our teachers have gone above and beyond to make this year work.
Q: What career would you pursue if not in education or law?
A: I'm currently about one and a half years into a five-year program that will ultimately lead to my ordination as a deacon in the Catholic church, so in some sense, I do expect another career. Hopefully, I'll be able to use that role here at Trinity as well as the larger community. If I could no longer be in education, I'd probably end up in a church-based profession or counseling.
Q: What are your hobbies?
A: My wife and I are just at a point where our kids are grown, so we're kind of in a discovery phase. I read every day, and I suspect I'll always be an avid reader. I love music and am always looking for new, quality artists. We have three dogs that we love like kids. We enjoy traveling. We have more hobbies than we have time or money, so we'll have to figure out what brings us the most joy.
Q: Why is Trinity a special place?
A: Trinity is special because of the people who have been here before us and because of the people who are here today. We're also special because we are the most inclusive Catholic school in this region. As with anything in life, being around diverse people with diverse backgrounds, beliefs, and experiences makes us all better. On a personal level, Trinity is special because of its Senior Retreat program. When I observed a retreat for the first time, it was life-changing, and that's when I knew this is the place I want to work until I retire.